Cooked Babies in OH; Subpoena Showdown in MO; Trunk Abortionist Trouble in MI


December 14, 2015

Over the weekend there were some significant late developments in a number of abortion cases that Operation Rescue has been involved with to some extent. Here are three to catch you up this Monday morning!

-Operation Rescue Staff
__________
Aborted Babies "Cooked" then Dumped in Landfill, Says OH AG; Planned Parenthood Sues Back
Columbus, OH - As a
result from
an investigation prompted by undercover videos released by the
Center for Medical Progress
that shows the involvement of certain Planned Parenthood affiliates in the illegal trafficking of aborted baby remains, Ohio Attorney General Mike DeWine notified the Ohio Department of Health that three Planned Parenthood facilities improperly contract with companies that "cook" aborted baby remains then dump them in a Kentucky landfill.
Continue reading! Includes Sunday's breaking developments!
__________
Showdown in Missouri: Planned Parenthood Refuses to Comply with Legislative Subpoena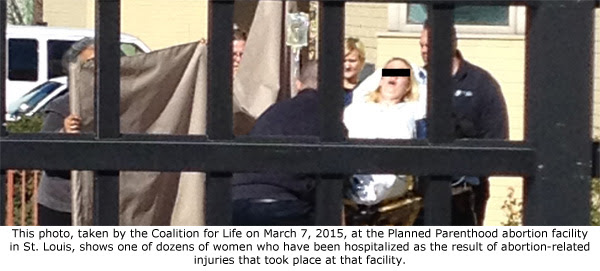 St. Louis, MO - In a defiant and obstructive act meant to deny critical information to Missouri legislators, Planned Parenthood of the St. Louis Region and Southwest Missouri is refusing to honor a subpoena issued by a legislative committee investigating Planned Parenthood.

The Missouri Senate Interim Committee on the Sanctity of Life, headed by Sen. Kurt Schaefer, issued a subpoena for records related to about fifty incidents of medical emergencies that occurred at Planned Parenthood's St. Louis abortion facility.
Will Planned Parenthood get away with this? Continue reading!
__________
Michigan Attorney General Files Civil Suit against Trunk Abortionist Michael Roth
West Bloomfield, MI - The Michigan Attorney General's office has filed a civil action against abortionist Michael Roth after powerful sedation drugs and jars of aborted baby remains were found in his vehicle after an auto accident. It appeared that Roth had been conducting abortions out of the trunk of his car.
Now Roth faces possible license revocation. He has 30 days to respond to the court action filed on Friday.

________________________________


ORDER ABORTION FREE




The new book,

Abortion Free

by Troy Newman and Cheryl Sullenger, tells step by step how

to make

your community abortion free! It is available for order at

Amazon.com.

________________________________
________________________________
About Operation Rescue®

Operation Rescue is one of the leading pro-life Christian activist organizations in the nation and has become a strong voice for the pro-life movement in America
.
Operation Rescue is now headquartered in a former abortion clinic that it bought and closed in 2006. From there, Operation Rescue launches its innovative new strategies across the nation, exposing and closing abortion clinics through peaceful, legal means. Its activities are on the cutting edge of the abortion issue, taking direct action to stop abortion and ultimately restore legal personhood to the pre-born in obedience to biblical mandates. Click here to support Operation Rescue.
Click here to make a secure donation online
.
______________________________
__
Web site:
www.operationrescue.org
E-mail:
info.operationrescue@gmail.com






Operation Rescue

|

P.O. Box 782888

|

Wichita

|

KS

|

67278