Another 40 Days for Life campaign is now complete, and we're still counting the blessings God has provided!

More of our local campaign leaders will be sending in their reports soon … but so far, we are aware of …

... 547 babies whose lives have been spared from abortion during this campaign!

And as always, those are only the ones we know about. Here are some of those stories.



El Paso, Texas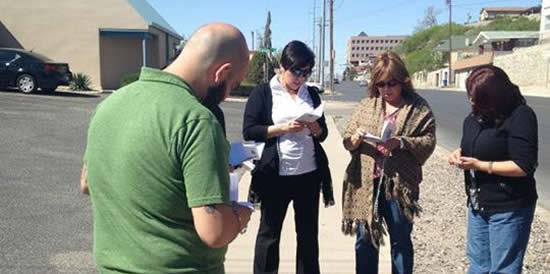 "Exciting news from the sidewalk!" said one of the El Paso volunteers. "A woman rejects abortion! "

When the woman arrived with her sister, there was a group of people praying on the sidewalk. One of the counselors talked to them, and provided information about positive options.

They continued on their way inside the abortion center … but came out soon after. "With a smile on her face," the volunteer said, "the woman said she had changed her mind." She was thinking about abortion because she feared her husband's response to the pregnancy. But after talking with the counselors, she no longer felt afraid.

"We believe the prayers of everyone united helped give this woman the courage she needed to say yes to life," the El Paso volunteer said. "Praise the Lord!"



Tuscaloosa, Alabama




A couple parked near the abortion facility in Tuscaloosa – close to the location where 40 Days for Life volunteers were praying. As they walked towards the building, vigil participants offered them information, but they didn't take it.

They weren't inside for long before they exited ... and said they couldn't go through with the abortion. The woman said she couldn't do it "because of all the young girls inside."

The two were visibly shaken by what they had seen inside the abortion center. This time, they took the information the volunteers had offered.



Pensacola, Florida




The Pensacola team asks for prayers for a woman who was abortion-minded … until the baby's father convinced her not to go through with it.

The woman is still struggling, however. She has had a number of abortions in the past and feels she is incapable of mothering a child. She does, however, seem open to adoption … and there is a couple that stands ready and willing to adopt the baby.

"Please pray," said one of the Pensacola volunteers, "that God will give them all the strength, love, mercy, and healing that they need to proceed with these adoption plans and provide a most beautiful future for this baby."

Zagreb, Croatia



Lastly, a few words for this campaign in Croatian: 40 Dana Za Život ... 40 Days for Life ... and they're on a billboard above a row of buildings in Zagreb.

"They are an impressive group," said Robert Colquhoun, our international outreach director, who visited Zagreb recently.

Dan Miller, the local 40 Days for Life director in Milwaukee, Wisconsin saw this photo and said, "this says awesome in any language!"

I think we can say that about all of the 40 Days for Life volunteers. You're awesome! May God bless you richly!

As a bonus ... here is one final 40 Days for Life devotional from Fr. Frank Pavone, national director of Priests for Life.

Day 41 intention


Pray that the witness of 40 Days for Life bears abundant fruit, and that we begin again each day to storm the gates of hell until God welcomes us into the gates of heaven.



Scripture



He will wipe every tear from their eyes. On this rock I will build my church; the gates of hell will not prevail against it.

— Matthew

16:18





Reflection by Fr. Frank Pavone



When we read this verse, we usually think that the Lord is promising that the church, which is His Body, will withstand all the attacks launched against it.

Of course, that is true. But when we think about it more carefully, we realize that in a battle, the gates do not run out into the battlefield to attack the enemy. Rather, they stand still to defend the city from the enemy attacking it.

So when the Lord says that the gates of hell will not prevail against the church, who is doing the attacking?

It is the church storming the gates!

The church, all of God's people in Christ, is called to take the offensive, to run into enemy territory, and to gain ground for Jesus Christ.

We do not wait for an invitation; we already have a command.

We prepare, but we do not wait for circumstances to be perfect; we already have one who has gone before us.

During these 40 days, we have stormed the gates. We have taken the offensive. We have pushed forward the boundaries of the kingdom. And we must keep doing so, in numerous ways.

Indeed, the gates of hell will not prevail. The gates of falsehood will flee in the presence of truth. The gates of sin will melt in the presence of grace. The gates of death will fall in the presence of the church, the People of Life!



Prayer



Father, we praise you. We have heard the voice of your Son, and therefore we can make our voices heard.

We have done battle with the power of evil, and therefore we can have compassion on those still within its grip. We have been freed from the kingdom of darkness, and therefore we can bear witness to your Kingdom of Light.

May the witness of all your people through these 40 Days for Life bear abundant fruit, and may we begin again each day to storm the gates of hell until You welcome us into the gates of heaven.

We pray in the victorious name of Jesus Christ our Lord, Amen.



Printable devotional



To download today's devotional as a formatted, printable PDF to share:

http://40daysforlife.com/docs/spring2014day41print.pdf
| | |
| --- | --- |
| | SHAWN CARNEY |
PS: Any additional stories from 40 Days for Life in your community? Please respond on today's blog entry:

http://40daysforlife.com/blog/?p=5919