During a 40 Days for Life campaign, many people read the 40 Days for Life book -- 40 chapters including stories of babies saved, abortion workers who had a conversion ... and a scripture and prayer for every chapter.
But as we headed into the largest spring 40 Days for Life campaign ever in more than 340 cities ... we sold out of the book!

After a rushed third printing of the book, we are excited to release the EXPANDED EDITION with new BONUS chapters and ...

Get the new expanded edition of the Amazon top-rated Christian book at:
In this new expanded edition you will learn:
The moving, behind-the-scenes inspiration for 40 Days for Life

The never-before-told story of how the closed abortion facility where the campaign began became the headquarters of 40 Days for Life

The inspiring story of two former abortion doctors now offering life in a closed Planned Parenthood building

The revelation after entering the closed Planned Parenthood abortion facility that impacts YOU
"40 Days for Life is one of the most impressive initiatives launch since Roe vs. Wade. It's a powerful combination of prayer and persuasion aimed above all at serving women. The forty stories told here are stories of America at its best."

-- George Weigel, author, biographer of St. John Paul II

"This beautiful book will touch your heart and challenge you. There is no movement more important, and 40 Days for Life is leading the fight -- spiritually and practically -- in the trenches every day. This book will help you see how you can take part in saving a life."

-- Lila Rose, President, Live Action

"If you're growing weary over the increasing level of disrespect of the most innocent among us, open this book, read these encouraging stories of lives saved and redeemed, and help let the light out!"

-- Jim Daly, President, Focus on the Family

"The fruits of 40 Days for Life are invaluable to our cause. Every child saved, abortion-minded mother changed, and abortion industry employee converted becomes a shining witness to life, another foot soldier to building a culture of life in our nation."

-- Marjorie Dannenfelser, Susan B. Anthony List
Read the full list of endorsements here.
As we enter the second half of this campaign, I encourage you to not just read about 40 Days for Life -- be part of it. God may use you as His instrument to save a life from abortion.
Right now there are more than 340 cities where you can do just that!
San Luis Obispo, California
"We had another save!" said Kirt in San Luis Obispo.
"We were able to walk a young couple down to local pregnancy center," he said, "and even though closed, the opportunity to consider another option and slow down the process was just what this couple needed."
They drove away, smiling, thumbs up and saying, "I'm not going to have an abortion!"
---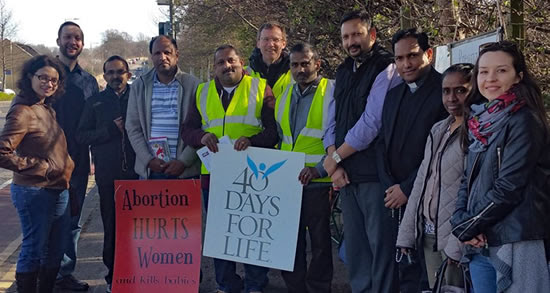 Edinburgh, Scotland
This is a worldwide campaign ... and the 40 Days for Life team in Edinburgh got a firsthand example of that when the pastor of the Edinburgh Indian Christian Community of St. Anthony prayed at the vigil with several members of his church.
The group prayed in five languages -- English, Polish, Italian, Tamil and Malayalam. With some of the opposition the Scottish vigils have seen during this campaign, it was a sure sign of unity among Christ's people!

Who is a God like You, pardoning iniquity and passing over the transgressions of the remnant of His heritage? He does not retain His anger forever, because He delights in mercy. He will again have compassion on us; and will subdue our iniquities.
—Micah 7:18-19
Heavenly Father, eternal, changeless, and faithful Lord, we recognize that we are in need of forgiveness as a nation, for turning our hearts away from you. Hear our prayer of repentance Lord and cleanse us from all unrighteousness. We praise you for your tender mercies and your compassion that never fails. Lord, it is only by Your grace that we can live lives that are just, and merciful.
40 Days for Life 4112 E 29th St. Bryan, Texas 77802 United States (888) LIFE-316