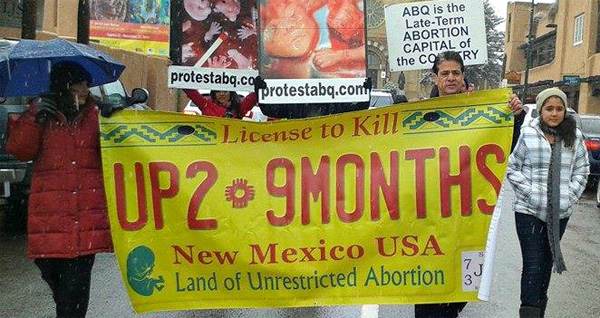 Dramatic Reversal: Abortion Protests Lead to Promising Public Policy Shift in New Mexico




January 28, 2015


Albuquerque, NM - The first-ever National Strike for Life, held on January 22-23 was an astounding success, especially in New Mexico, where the idea for the two-day strike first originated.




One of the most impressive developments to come out of the event was a dramatic change in heart of New Mexico Gov. Susana Martinez, who campaigned as a pro-life supporter, but has been reticent in the past to take any action to make abortion facilities more accountable in her state where clinics have no oversight and abortions are legal throughout all nine months of pregnancy.




"There are literally no abortion laws in New Mexico. There's no waiting period, no parental notification, and no safety standards or inspections. There's no limits on abortion whatsoever. Because of this 'Wild West' attitude toward abortion, babies are killed in Albuquerque up until the day before birth," said Operation Rescue President Troy Newman, co-author of the new book,

Abortion Free

, which describes how to end abortion one community at a time. "Women and babies who should be protected by law are vulnerable prey to unscrupulous abortion mills that exploit the moms and take the lives of their babies for profit. It is only reasonable to call on the Governor for reforms."




Now, a remarkable turn-around has taken place as a result of a year of focused protests culminating in last week's National Strike for Life.


________________________________


ORDER ABORTION FREE




The new book,

Abortion Free

by Troy Newman and Cheryl Sullenger, is available for order at

Amazon.com.

________________________________
________________________________
About Operation Rescue®

Operation Rescue is one of the leading pro-life Christian activist organizations in the nation and has become a strong voice for the pro-life movement in America.
Operation Rescue is now headquartered in a former abortion clinic that it bought and closed in 2006. From there, Operation Rescue launches its innovative new strategies across the nation, exposing and closing abortion clinics through peaceful, legal means. Its activities are on the cutting edge of the abortion issue, taking direct action to stop abortion and ultimately restore legal personhood to the pre-born in obedience to biblical mandates. Click here to support Operation Rescue.
Click here to make a secure donation online
.
________________________________
Web site:
www.operationrescue.org
E-mail:
info.operationrescue@gmail.com







Operation Rescue

|

P.O. Box 782888

|

Wichita

|

KS

|

67278