Fifth Carhart Abortion Patient Rushed To Emergency Room in Maryland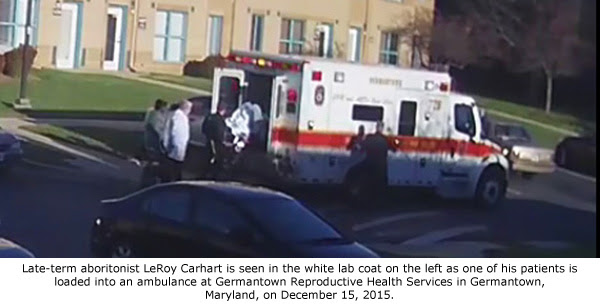 Germantown, MD - For at least the fifth time since LeRoy Carhart located his late-term abortion business to Maryland, one of his abortion patients has been rushed to a hospital emergency room by ambulance.

On December 15, 2015, the Maryland Coalition for Life reports that Carhart, who is nationally known for being one of the few abortion providers to conduct third trimester elective abortions, accompanied a patient in the ambulance as she was rushed away to receive emergency help for what appeared to be an abortion-related emergency.

The Coalition provided video of the incident to Operation Rescue.

"Carhart continues to endanger women while the authorities in Maryland look the other way. We are concerned for the woman who was transported to the hospital and can only wonder how many women must suffer injury or death until Carhart's medical license is revoked," said Newman.
Continue reading and watch the video!
________________________________


ORDER ABORTION FREE




The new book,

Abortion Free

by Troy Newman and Cheryl Sullenger, tells step by step how

to make

your community abortion free! It is available for order at

Amazon.com.

________________________________
________________________________
About Operation Rescue®

Operation Rescue is one of the leading pro-life Christian activist organizations in the nation and has become a strong voice for the pro-life movement in America
.
Operation Rescue is now headquartered in a former abortion clinic that it bought and closed in 2006. From there, Operation Rescue launches its innovative new strategies across the nation, exposing and closing abortion clinics through peaceful, legal means. Its activities are on the cutting edge of the abortion issue, taking direct action to stop abortion and ultimately restore legal personhood to the pre-born in obedience to biblical mandates. Click here to support Operation Rescue.
Click here to make a secure donation online
.
______________________________
__
Web site:
www.operationrescue.org
E-mail:
info.operationrescue@gmail.com