Pro-lifers Pray Planned Parenthood Abortionist Is Gone For Good
April 24th, 2008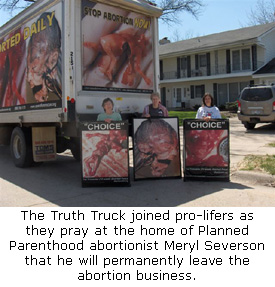 Council Bluffs, IA - Operation Rescue's Truth Truck accompanied a group of pro-lifers from Rescue the Heartland on a prayer/picket at the Nebraska home of Planned Parenthood abortionist Meryl Severson on April 19, 2008.
Severson commits abortions at Planned Parenthood mills in Council Bluffs, Iowa, and Lincoln, Nebraska. Rescue the Heartland Director Larry Donlan tells Operation Rescue that neither location has been open for abortions in three weeks. Christians are praying that Severson will not return to his abortion job as well as for his repentance and conversion.
"We join Rescue the Heartland in praying that Severson has aborted his last pre-born child and that the two Planned Parenthood offices will close permanently," said Operation Rescue President Troy Newman.