Daily Video Reports Available From The DNC In Denver, Colorado


August 24th, 2008

Denver, CO - As the Truth Truck fleet rolls through the streets of Denver, Colorado, Operation Rescue's President, Troy Newman, will be producing brief daily video reports of all the action during A Prayer for Change events at the Democratic National Convention.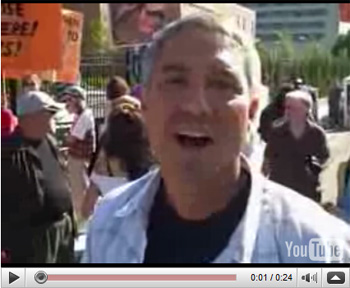 Click here to view all of the video reports.

Events on Saturday, August 23, 2008, included:
An exchange between pro-lifers and pro-death people on the streets of Denver.
A Rose Memorial for the Pre-Born at the Pepsi Center, site of the DNC.
Introduction of a young woman who survived a saline abortion.
Photographs are also available of the pro-life outreach at the DNC. Click here to view photographs of the action.

________________________________
About Operation Rescue
Operation Rescue is one of the leading pro-life Christian activist organizations in the nation. Operation Rescue recently made headlines when it bought and closed an abortion clinic in Wichita, Kansas and has become the voice of the pro-life activist movement in America. Its activities are on the cutting edge of the abortion issue, taking direct action to restore legal personhood to the pre-born and stop abortion in obedience to biblical mandates. Click here to make a secure donation online.
________________________________
Web site: www.operationrescue.org
E-mail:
info@operationrescue.org