Sen. Nelson Rejects Abortion Funding Compromise, Still Standing Strong
 

December 18, 2009 
Washington, DC - Nebraska Sen. Ben Nelson yesterday rejected a compromise on tax funded abortions submitted by Dem. Sen. Robert Casey, Jr. as being too weak. The pro-life Democrat has been under intense pressure to cave into his leftist party's demand for taxpayers to foot the bill for our nation's abortions, a plan that would likely drive up the falling abortion rate and breathe new life into a failing abortion industry.
A vote on cloture, which would end debate, requires 60 votes, something the Democrats do not have. Evoking cloture would pave the way for the passage of the massive health care plan. A vote for cloture is, in reality, a vote for abortion because once the debate ends, there are enough votes to pass the bill with a simple majority.
While Republicans employ nearly every delay tactic at their disposal, ultra-liberals may not support Obama's heath care takeover because it is not liberal enough. Some have indicated that they might not vote for cloture if abortion funding is stripped from the Senate version, or the public option is omitted.
There is speculation that a critical vote could come on Christmas Eve - or even Christmas Day. Could the Democrats be counting on Americans being distracted by the holidays to slip through this anti-life monstrosity?
Please keep encouraging your Senators to reject Obamacare, especially if it contains even one cent for abortions - right through Christmas Day, if necessary.
Cast Your Vote For Operation Rescue's Web Site in Pro-Life Blog Competition 
Please vote now! Voting closes December 20.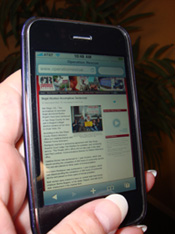 Operation Rescue's web site has been nominated for the American Life League's Pro-Life Blog Awards. We have been selected to compete in the category "Pro-Life Instigator Award for Activism." The top vote-getter from all categories will be awarded "Best Overall Pro-Life Blog."
We endeavor to use the Internet to expose abortion industry abuses and activate pro-life supporters to work together to end abortion. Our investigative reports and exposés are cutting-edge and have helped bring several shoddy abortionists to justice.
Our web site is interactive and lets YOU voice your views on the most critical moral issue of our time through comments, polls, and participation. We provide a number of multi-media resources, including featured videos, radio commentaries, and written materials to inform and equip you to be as effective as possible in saving lives and stopping abortion.
Please cast your vote for Operation Rescue. (Our hard-working staff will appreciate it!)
Two Timely New Radio Commentaries From Troy Newman

Check out Troy Newman's latest installment of "Take a Minute for Life," a one-minute radio commentary aired regularly on the Bott Radio Network.
·         Obamacare has a long way to go