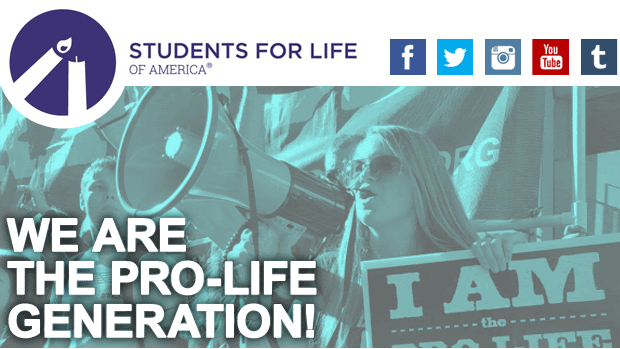 Snow? No Problem!
Washington, D.C. is predicted to receive a lot of snow this Friday. However, the SFLA team will go on no matter what the weather is. Rain, snow, sleet, etc. will not stop The Pro-Life Generation! We will be in DC passing out more than 15,000 signs - be sure to find us so you can get yours!

Are you attending our National Conference on Saturday? Don't worry - the largest pro-life conference in the world will still happen despite the inclement weather!
Put On Your Dancing Shoes!
Celebrate LIFE the night before the March for Life at the Rock for Life Dance Party featuring DJ Durty Beats! Music starts at the Renaissance Washington DC Downtown Hotel at 10pm, doors open at 9:45. This family-friendly event is free for all!
Get details now!



How to Dress for the March for Life

It's going to be a cold March for Life this year! Make sure you dress accordingly!

Students for Life of America
9900 Courthouse Road
Spotsylvania, Virginia 22553
Office: 540.834.4600