Florida Abortion Clinic Closures Indicate Decreased Demand for Abortions
February 11, 2016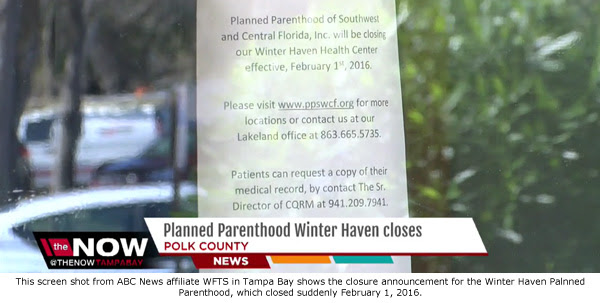 Winter Haven, FL - A sign posted on the front door was the first indication that the Planned Parenthood office in Winter Haven, Florida, had closed. It announced that as of February 1, 2016, the abortion facility which offered the abortion pill and surgical abortions through 16 weeks of pregnancy, would shut down for good.
"Planned Parenthood isn't one to leave money on the table, and if their Winter Haven abortion facility had shown a profit, it would still be open," said Troy Newman, President of Operation Rescue. "This shows that the demand for abortions had fallen so low in that area that an abortion facility was financially unsustainable."
________________________________


ORDER ABORTION FREE




The new book,

Abortion Free

by Troy Newman and Cheryl Sullenger, tells step by step how

to make

your community abortion free! It is available for order at

Amazon.com.

________________________________
________________________________
About Operation Rescue®

Operation Rescue is one of the leading pro-life Christian activist organizations in the nation and has become a strong voice for the pro-life movement in America
.
Operation Rescue is now headquartered in a former abortion clinic that it bought and closed in 2006. From there, Operation Rescue launches its innovative new strategies across the nation, exposing and closing abortion clinics through peaceful, legal means. Its activities are on the cutting edge of the abortion issue, taking direct action to stop abortion and ultimately restore legal personhood to the pre-born in obedience to biblical mandates. Click here to support Operation Rescue.
Click here to make a secure donation online
.
______________________________
__
Web site:
www.operationrescue.org
E-mail:
info.operationrescue@gmail.com