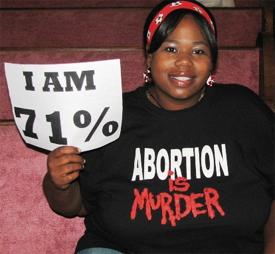 Washington, DC - Sen. Harry Reid is up to his old tricks and is trying to force through government health care that includes taxpayer-funding of abortion - again.
Obama is not giving up even though the vast majority of Americans oppose government-run health care, and an even larger percentage of the people (71%) oppose tax-funding of abortions. They are attempting to use a tactic called "reconciliation" in order to bypass debate that could be filibustered by the Republicans. Make no mistake, this is just an underhanded way to circumvent the will of the American people and force this so-called health care boondoggle on us.
In fact, our hard earned tax dollars already go to pay for abortions to the extent that it is artificially keeping some abortion businesses afloat, and allowing the monolithic Planned Parenthood to build and expand. (
Read more
)
Over the past few months, your response has helped defeat this ill-conceived health care plan over and over. Now your help is needed again.
Please contact your Senators and Representative today and let them know that you oppose "reconciliation" and any health care bill that includes even one penny for abortions.
WorldNetDaily: "Report: Taxes prop up 'dying' abortion industry"
Read WorldNetDaily's story based on Operation Rescue's report on the failing abortion industry and how our tax dollars are artificially keeping one particular abortion businesses open and expanding - in spite of evidence that they are violating the law.
Read story here:
http://www.wnd.com/index.php?fa=PAGE.view&pageId=125372
Help Send Planned Parenthood To Trial!
Please forward this link to everyone you know!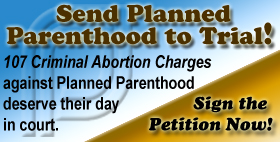 Topeka, KS - In 2007, 107 criminal charges were filed against Planned Parenthood of Kansas and Mid-Missouri for charges related to illegal late-term abortion.  But in Kansas, there has been extreme political interference in this case and efforts to suppress the evidence against the largest abortion mill left in this state.
We cannot let that evidence be buried!  It deserves to be heard in a court of law.
Currently the charges are log-jammed at the Kansas Supreme Court, which is known for its pro-abortion bias.  As long as the Court does not rule on motions to lift the gag order on one of the key witnesses and release the evidence against Planned Parenthood, then the case will never move forward.
We need your help to let the Supreme Court know that we are watching them and that we will not remain silent while justice is thwarted.
Pleaseclick here to read and sign the petition to the Kansas Supreme Court and then forward the link to everyone you know.   Post it on your Facebook page, Twitter  feed, or other social networking sites.
When the laws are not enforced due to favoritism and politics, it places the innocent at risk.  Please send the Supremes the message that Planned Parenthood is not above the law.