Sordid History of Abortionist Karpen Should Be Considered By TX Medical Board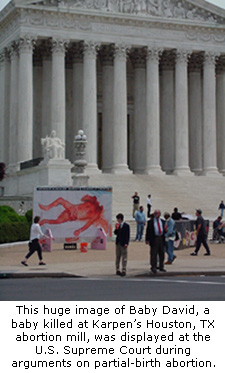 Austin, TX - When the Texas Medical Board considers the cases of five abortionists this Friday, one of those who is scheduled to make an appearance is Douglas A. Karpen. His history deserves a closer look.
The complaint against Karpen is based on two recordings made by women who had scheduled abortions at Northpark Medical Group in Dallas, Texas, at a time when Karpen was employed there. The calls, made Feb. 11, and Feb. 24, 2011, were identical recordings. There was no physician on the call to answer questions. This represents a violation of the State mandated informed consent law.
Certainly women entertaining such a serious and final decision as abortion should be allowed to ask questions and be as informed as possible. That is the law. Karpen's disregard for the informed consent law betrays a disregard for the women that come to him for medical care.
If this was the only incident in Karpen's career, it would still be a serious infraction of the law. But sadly, Karpen has a long and sorted history of disregard for women's informed consent and for the safety of his patients that the Medical Board is being asked to take into consideration when deciding what discipline Karpen should receive.
Order the powerful documentary "Bloodmoney" today!
For every DVD purchased Operation Rescue will receive $5 that will go to help us in our work to end abortion.
________________________________
About Operation Rescue®
Operation Rescue is one of the leading pro-life Christian activist organizations in the nation and has become a strong voice for the pro-life movement in America. Operation Rescue is now headquartered in a former abortion clinic that it bought and closed in 2006.  From there, Operation Rescue launches its innovative new strategies across the nation, exposing and closing abortion clinics through peaceful, legal means. Its activities are on the cutting edge of the abortion issue, taking direct action to stop abortion and ultimately restore legal personhood to the pre-born in obedience to biblical mandates. Click here to support Operation Rescue.   
Click here to make a secure donation online
.
________________________________
Web site: 
www.operationrescue.org
E-mail:
info.operationrescue@gmail.com