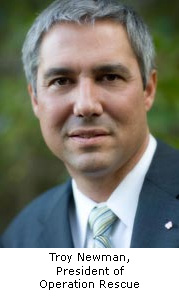 Operation Rescue's Troy Newman will be speaking at pro-live events from coast to coast over the next two weeks encouraging and training pro-life supporters in effective tactics to stop abortion.
New York
Troy the featured speaker at the 2011 Annual Banquet for Orange County (New York) Right to Life this weekend. Please come out and hear him if you are in the area.
The Banquet will be held on Sunday, October 23, 2011, from 2-6 PM at the Brookside Manor in Middletown, New York. For more information about attending this worthy event, please click here.
Texas
Troy will be in Austin, Texas, on October 27-28 to attend hearings of five abortionists who will be facing disciplinary hearings before the Texas Medical Board based on complaints filed by Operation Rescue after a three month undercover investigation. Watch for more details that will be coming soon about this important event.
California
Next month, Troy will be speaking at the International Pro-life Youth Conference in Los Angeles, California. This exciting conference will train and equip youth from all over the globe to unite to end abortion worldwide.
The International Pro-life Youth Conference will be held November 11-13, 2011. Seating is limited. To learn more about attending this groundbreaking event, please visitInternationalProlifeYouth.com.
To book Troy to speak at your event please contact info.operationrescue(at)gmail.com or call 316-683-6790, ext. 111.
Order the powerful documentary "Bloodmoney" today!
For every DVD purchased Operation Rescue will receive $5 that will go to help us in our work to end abortion.
________________________________
About Operation Rescue®
Operation Rescue is one of the leading pro-life Christian activist organizations in the nation and has become a strong voice for the pro-life movement in America. Operation Rescue is now headquartered in a former abortion clinic that it bought and closed in 2006.  From there, Operation Rescue launches its innovative new strategies across the nation, exposing and closing abortion clinics through peaceful, legal means. Its activities are on the cutting edge of the abortion issue, taking direct action to stop abortion and ultimately restore legal personhood to the pre-born in obedience to biblical mandates. Click here to support Operation Rescue.   
Click here to make a secure donation online
.
________________________________
Web site: 
www.operationrescue.org
E-mail:
info.operationrescue@gmail.com