BREAKING: Ohio Abortionist Indicted on Federal Child Porn Charges


November 10, 2014

By Cheryl Sullenger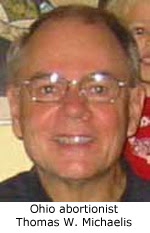 Toledo, OH - Ohio abortion provider Thomas William Michaelis, 69, has been indicted on Federal charges of receiving and distributing child pornography.

According to a local news report, an investigation involving the Secret Service and the Sylvania, Ohio, Police Department was conducted between January and May, 2014, while Michaelis worked as an abortionist at Toledo's Capital Care Network.

Michaelis was said to have "retired" in May, 2014, but in reality, the Ohio Medical Board permanently revoked his medical license at that time, noting a documented history of sexual deviancy dating back at nearly 25 years.

Continue reading this breaking story!