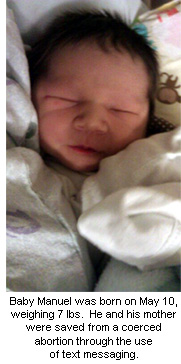 Albuquerque, NM – A teen mother, who was saved from a coerced abortion last October after a sidewalk counselor texted her while she was inside the clinic, has given birth to a beautiful, healthy boy named Manuel.
The little boy was born on May 10 weighing 7 pounds. The following week, his mother proudly graduated from high school.
Tara Shaver, a former intern for Operation Rescue, was sidewalk counseling outside Planned Parenthood in Albuquerque, New Mexico, when she received a call from a woman who told her that her grandson's girlfriend was being forced to get an abortion that she did not want. The woman told Tara that her grandson, the baby's father, also wanted to keep the baby. They were desperate, because the girl was only 17 and her mother was insisting on the abortion against the girl's will. The grandmother gave Tara the teen's cell phone number.
Tara began a text-message conversation with the teen, who we will call "Jane," while she was inside the abortion clinic. Jane was six weeks pregnant and was interested in seeing an ultrasound of her baby, but still did not want to go through with the abortion. She told Tara that her mom would not allow her to leave the clinic.
Tara continued to encourage her and even texted Jane a photo of a pre-born baby at six weeks, the same age as her baby. Texting keep their conversation private where a phone call would have alerted the mother or the abortion clinic staff to Tara's efforts to help Jane.
Finally, Jane came out of Planned Parenthood and spoke with Tara, and before long, Jane's father came to the clinic to pick her up and take her safely home.
Tara's last text to the Jane that day was loving word of encouragement.
"We are so proud of u! You are my hero, your baby is so proud too!"
Tara continued to follow up with her new friend, and shared in her joy at the birth of her baby and her accomplishment of graduating with her class.
"Coerced abortions are a very real and understated problem in our country. Jane is a hero for having the courage to stand up for her baby even though the deck was stacked against her. We congratulate her on the birth of her precious son, Manuel, and on her graduation," said Newman.
"But Jane could not have done it without Tara's love and support. She is also a hero too, for thinking 'outside the box' and using texting to save Manuel's life and protect Jane from the emotional trauma of a coerced abortion. Tara took time to follow up with Jane, and make sure she had the help and support she needed. We are very proud of Tara and all she and her husband, Bud, are accomplishing on the pro-life mission field of Albuquerque."

About Operation Rescue®
Operation Rescue is one of the leading pro-life Christian activist organizations in the nation and has become a strong voice for the pro-life movement in America. Operation Rescue is now headquartered in a former abortion clinic that it bought and closed in 2006. From there, Operation Rescue launches its innovative new strategies across the nation, exposing and closing abortion clinics through peaceful, legal means. Its activities are on the cutting edge of the abortion issue, taking direct action to stop abortion and ultimately restore legal personhood to the pre-born in obedience to biblical mandates. Click here to support Operation Rescue. Click here to make a secure donation online.
______________________________
__
Web site: www.operationrescue.org
Across the Fruited Plains (Video)