Pro-life Activists Expose Black Abortionist Who Preys on Women of Color

September 12, 2013

Virginia Beach, VA - Pro-life activists gathered on the twelfth anniversary of the September 11 attacks at the Planned Parenthood abortion clinic in Virginia Beach, Virginia, to expose an African-American abortionist found to be preying on women of color.

"As America remembered the terrible attack on 9-11, I stood in front of Planned Parenthood in Virginia Beach," said Dr. Day Gardner, President of the National Black Pro-Life Union in Washington, D.C. "I prayed knowing that while this great country of ours rightfully mourns more than 3000 lives lost that day, my heart aches knowing that last year alone, more than 300,000 children were killed in the most gruesome and brutal ways possible by abortion at Planned Parenthood clinics. It is especially sad knowing that in Virginia Beach, Tamer Middleton, a black abortionist who preys on her own people, was in the clinic today slicing and dicing children into little bits."
The pro-life activists held signs with Tamer Middleton's photo and name in front of the Planned Parenthood abortion clinic. Middleton is a "fly-in" abortionist who is known to work at abortion clinics in predominately Black neighborhoods, including Planned Parenthood in Mobile, Alabama, and a Feminist Women's Health Center in Atlanta, Georgia, where late-term abortions are done. Ironically, medical licensing sites list her "specialty" as "Family Medicine."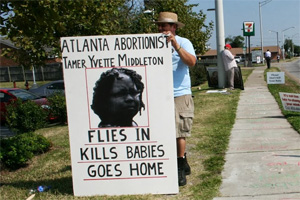 The group also objects to the fact that Middleton, who is based in Georgia, travels to Virginia Beach to abort babies then leaves the state, providing no continuity of care to women suffering from complications from abortions.
Their fears for the safety of women and the lives of babies are well-founded. Operation Rescue published photos taken by a local activist of an ambulance at the same Planned Parenthood and a 911 recording revealing a life-threatening medical emergency that put one patient in the hospital in October, 2011.

________________________________

Operation Rescue is one of the leading pro-life Christian activist organizations in the nation and has become a strong voice for the pro-life movement in America. Operation Rescue is now headquartered in a former abortion clinic that it bought and closed in 2006. From there, Operation Rescue launches its innovative new strategies across the nation, exposing and closing abortion clinics through peaceful, legal means. Its activities are on the cutting edge of the abortion issue, taking direct action to stop abortion and ultimately restore legal personhood to the pre-born in obedience to biblical mandates. Click here to support Operation Rescue.
Click here to make a secure donation online
.
About Pro-Life Nation



Pro-Life Nation is an initiative of Operation Rescue that offers a goal-oriented strategy to end abortion. For more visit ProLifeNation.org and read our new booklet that details our strategy.
______________________________
__
Web site:
www.operationrescue.org
E-mail:
info.operationrescue@gmail.com