Unsafe Shreveport Abortion Mill Will Stay Open Until Lawsuit Is Resolved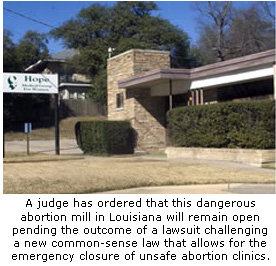 Baton Rouge, LA - Yesterday, a District Court judge ordered that the unsafe Hope Medical Group for Women could remain open until a lawsuit challenging the law used to close the clinic can be resolved.
"Yesterday's ruling degrades women and sends the tragic message that they are not worth protecting from unsafe and predatory abortionists who are clearly operating outside the law. It is nothing less than an outrageous and unjust act of discrimination against women that puts their lives in jeopardy," said Operation Rescue President Troy Newman.
The abortion clinic had been determined by the Department of Health and Hospitals to pose a health and safety threat to the public and was ordered to close on September 1, under authority granted to the DHH by a new law enacted earlier this year.
On September 14, Judge R. Michael Caldwell ordered the license suspension order stayed without notice to the DHH, and set a hearing on the matter for September 21. The mill, without having corrected all the deficiencies that led to the closure, opened for business the next day.
Before the hearing, the Center for Reproductive Rights, a radical abortion and child sex advocacy group from New York, filed suit against the DHH on Monday on behalf of five Louisiana abortion mills and one unnamed abortionist to block enforcement of the new law that allowed for emergency license suspension for medical clinics that were found to be dangerous to the public. That case will be heard by Judge Martin L.C. Feldman.
Hope Medical Group for Women will be allowed to remain open pending the outcome of that suit, which could take years to litigate.
DHH spokesperson Linda Faust expressed frustration with the ruling.
"We are disappointed that this abortion facility can remain open while we go through the process of revoking its license. We want to assure Louisiana women that we will continue to fight to protect them from unsafe abortion facilities," she said.
"It is incomprehensible that a judge could be so callous to the health and safety of women that he would allow this dangerous abortion mill to continue to risk their lives, in defiance to the law and the findings of the DHH," said Newman. "We applaud the DHH for working to protect women and appreciate their continued efforts to enforce the law."
About Operation Rescue®
Operation Rescue is one of the leading pro-life Christian activist organizations in the nation and has become a strong voice for the pro-life movement in America. Operation Rescue is now headquartered in a former abortion clinic that it bought and closed in 2006.  From there, Operation Rescue launches its innovative new strategies across the nation, exposing and closing abortion clinics through peaceful, legal means. Its activities are on the cutting edge of the abortion issue, taking direct action to stop abortion and ultimately restore legal personhood to the pre-born in obedience to biblical mandates. Click here to support Operation Rescue.  
Click here to make a secure donation online
.
________________________________
Web site:
www.operationrescue.org
E-mail:
info@operationrescue.org