LifeNews.com Pro-Life News Report
Friday, August 26, 2011
For pro-life news updated throughout the day, visit LifeNews.com.
Current Headlines

Top Stories
• Biden Voted Against Condemning China s One-Child Policy
• New Poll: 55% of Americans Say Abortion Morally Wrong
• Pro-Life Advocate Handing Out Fliers Claims Police Beat Him
• Pro-Lifers Encouraged by Disciplining of Abortion Practitioners
More Pro-Life News
• Pro-Abortion Ex-New York Gov. Pataki Won t Seek GOP Nod
• Virginia Releases Regulations, Could Shut Abortion Centers
• What Cloning Advocates Don t Say About Human Cloning
• Aussie Woman in Intensive Care After Botched Abortion at MSI
• Philippines: Sponsor Admits RH Bill About Population Control
• Minnesota Planned Parenthood Fundraiser Honors Dayton Staffer
• New Zealand Right to Life Comments on Supreme Court Decision
• Adult Stem Cells Work Against Stress and Depression
• Nebraska Webcam Abortion Ban Goes Into Effect Saturday
---> Is your pro-life group or pregnancy center looking for an affordable speaker? Need a speaker for a conference, convention, church presentation or on short notice? Consider LifeNews.com Editor Steven Ertelt. Email us for details.
Biden Voted Against Condemning China s One-Child Policy

The outpouring of outrage over Vice President Joe Biden s failure to criticize China s one-child, forced abortion policy is taking a new angle as an expert on the policy says he fully briefed Biden on it years ago.
But, first, Biden himself dismissed criticism of his one-child policy comments, according to a Los Angeles Times report.
My point to them was it s also not very wise economically, he said. When they talked about what is our long-term need to deal with entitlements I basically wanted to point out, We ain t got anything near the problem you have, he said, calling the policy repugnant.
He said he didn t forcefully comdemn the policy because he wanted to avoid a polemic debate in public, but hinted he condemned it privately.
So the Chinese had no illusions in my private conversations even the public ones [about] the policy, he said.
Meanwhile, Steven Mosher, the president of the Population Research Institute, personally witnessed the one-child policy put in place in China decades ago and saw first-hand how family planning officials used forced abortions and sterilizations to respond to women and couples who violated the draconian policy. Mosher is credited with exposing the one-child policy and bringing international attention to it. http://www.lifenews.com/2011/08/26/biden-voted-against-condemning-chinas-one-child-policy/
New Poll: 55% of Americans Say Abortion Morally Wrong

A new national poll conducted by Rasmussen Reports finds more than half of Americans still believe abortions are morally wrong, although the polling finds different results from most surveys when asking whether respondents are pro-life or pro-choice.
Rasmussen found 55% believe abortion is morally wrong most of the time, a finding that shows little change since April 2007, when it started asking the question. Thirty percent (30%) think abortion is morally acceptable in the majority of cases, while 15% are undecided.
Seventy-two percent (72%) of GOP voters and 60% of unaffiliateds think abortion is morally wrong most of the time. The plurality (46%) of Democrats disagree and feel abortion is not morally wrong in most instances.
Despite that pro-life response, 48 percent of likely voters classify themselves as pro-choice on abortion while 43 percent say they are pro-life. Fifty-one percent (51%) of female voters say they re pro-choice, but just 44% of male voters say the same. Voters under the age of 40 are more likely to be pro-choice than their elders, the survey shows, which is also at odds with most polls.
Most Democrats (70%) are pro-choice, while the majority (62%) of Republicans and a plurality (47%) of voters not affiliated with either major party are pro-life.
The poll also found a majority of voters say abortion will affect how they vote in the next election, where Americans will decide if they want to keep pro-abortion President Barack Obama in the White House for another four years and whether pro-life Republicans or pro-abortion Democrats run Congress. http://www.lifenews.com/2011/08/26/new-poll-55-of-americans-say-abortion-morally-wrong/

Pro-Life Advocate Handing Out Fliers Claims Police Beat Him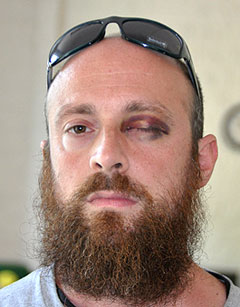 A local pro-life advocate in Massachusetts claims police beat him while his hands were handcuffed behind his back after they detained him for passing out pro-life literature at a local fair in Franklin, Massachusetts on the grounds of a Catholic Church.
The conservative web site Mass Resistance published the account of Peter D Attilio, who was detained, jailed and had his vehicle improperly searched for handing out pro-life fliers. D Attilio describes what happened:
On Thursday, August 11 at 7 pm I arrived at the St. Rocco fair (an annual Italian festival held on the grounds of St. Mary s Catholic Church in Franklin, Mass.) and handed out pro-life flyers to over 50 teens. They were well received as they thanked me for the info. At 7:45 I went back to my truck for five minutes to say a few prayers. My truck was parked at the corner of Pleasant St. and Queen St., not too far away.
Then I re-entered the fair which was free and open to the public. I gave out the flyers to about six teens who were sitting at a table when two cops approached me. One of them asked, What are you doing? I said, Giving out public service announcements, sir. He asked to see my ID. I said Why? (Police are required to have probable cause of a crime committed to demand an ID. I ve seen situations where pro-life people, after giving out their IDs, will be immediately given a legal no-trespass warning without reason, and other such harassments.)
He got upset and demanded my ID and said that by law you have to identify yourself to a police officer, and threatened me with arrest. Besides that, he would not give a reason. Then he falsely accused me of having outstanding warrants as a reason to not ID myself. He said that this was private property owned by the church. So I said, If that is the case then I ll leave right now. He told me not to leave. So I didn t, nor did I make any attempt to. http://www.lifenews.com/2011/08/26/pro-life-advocate-handing-out-fliers-claims-police-beat-him/

Pro-Lifers Encouraged by Disciplining of Abortion Practitioners

One of the pro-life groups that has been the most active in exposing how abortion practitioners in various states run afoul of abortion laws is delighted that disciplinary hearings are coming up in several states.
Operation Rescue has been working overtime to expose how abortion practitioners flagrantly violate health and safety laws by putting women at risk in dangerous abortions, how they illegally dump patient records and medical waste, fail to report suspected cases of statutory rape and sexual abuse, do not provide women proper information before the abortion, and attempt to circumvent parental notification and consent laws.
The laws, which have proven to reduce abortions in many states, give pro-life advocates the opportunity to expose abortion practitioners and businesses that violate them and OR has successfully ensured that they shut down, are fined, or lose their medical licenses when they don t follow the law. That, its leading spokesman says, results in protecting the lives of women and unborn children, and OR hopes more fines and punishments will be meted out soon.
Currently, abortionists all over the country are facing hearings in the coming weeks with state disciplinary boards and criminal courts, OR president Troy Newman said today. While we are encouraged by the recent trend in several states to finally enforce the abortion laws on the books, we know that this is only a beginning. http://www.lifenews.com/2011/08/26/pro-lifers-encouraged-by-disciplining-of-abortion-practitioners/
Pro-Abortion Ex-New York Gov. Pataki Won t Seek GOP Nod

George Pataki, the pro-abortion former governor of New York, said today he will not seek the Republican nomination for president. Pataki flirted with the idea for weeks, but political observers did not expect him to run or become a serious contender if he did.
The former governor was slated to participate in an event this weekend in Iowa, the site of the first presidential battleground in the fight to name a Republican nominee to take on pro-abortion President Barack Obama. Pataki was expected, if he were to run, to have announced his candidacy tomorrow at the Polk County Republican fundraiser, but sources told CNN he would not become a candidate.
Although Pataki held office for three terms in one of the most populated states in the nation, his pro-abortion and moderate views on other issues would likely ave alienated him from the pro-life conservatives who constituted the majority of the Republican Party.
Pataki also flirted with running for the GOP nomination in 2008, when Sen. John McCain ultimate won the nod. After spending 11 years as the governor of a large state Republican don t do well in, some thought he might be a top-shelf presidential contender. He opened a campaign office in New Hampshire, the second state in the primary race, but he closed it shortly thereafter. Pataki ultimately, in 2008, gave his blessing to several staff members joining other presidential campaigns including that of fellow New Yorker Rudy Giuliani, an abortion backer who was expected to perform well but ultimately fizzled. http://www.lifenews.com/2011/08/26/pro-abortion-ex-new-york-gov-pataki-wont-seek-gop-nod/
Virginia Releases Regulations, Could Shut Abortion Centers

The Virginia state health department today released a draft of new regulations for abortion centers that pro-abortion groups are aggressively opposing because it could force some abortion facilities that put women s health at risk to close.
Virginia Gov. Bob McDonnell signed a bill earlier this year that pro-abortion organizations supported that would crack down on abortion businesses in the state and ensure they are following better health and safety standards. Abortion advocates strongly contested the legislation and mounted a campaign attempting to get McDonnell to veto the bill by claiming it would shut down as many as 17 of the 20 abortion businesses in the state. But pro-life advocates countered saying if they were shut down it was because they couldn t meet basic health standards to ensure the safety of women and protect their health.
Abortion centers in Virginia have not been subject to strict regulations for more than 20 years. The new bill the legislature approved will make sure abortion clinics are regulated as hospitals instead of physician s offices, a move that will protect women s health, reduce abortions, and could cause problematic abortion centers to close. The legislation gave the state s Board of Health 280 days to write new rules for abortion businesses.
Now, the Virginia Department of Health released the temporary emergency regulations, which the State Board of Health will vote on at a September 15 hearing. They will remain in place while the state drafts more permanent regulations through the typical process. http://www.lifenews.com/2011/08/26/virginia-releases-regulations-could-shut-abortion-centers/
ACTION: Contact the Virginia Board of health at http://www.dhp.virginia.gov/about/contact.htm to support the abortion facility regulations.
What Cloning Advocates Don t Say About Human Cloning

Discussing cloning in animals is easy. No one seems to have a problem accurately describing the process of cloning, somatic cell nuclear transfer or SCNT, for a sheep or a cow.
(SCNT is the process used to create Dolly the sheep. In SCNT, the nucleus of an egg is removed. The egg s nucleus is replaced with a nucleus of a somatic cell, like a skin cell, from an adult organism. The egg with a new set of DNA is zapped into thinking it has been fertilized and a cloned embryo is formed.) In fact, I have never seen a cloning account for an animal that wasn t accurate. For example, this description by Popular Science on plans to use SCNT with eggs from spayed domestic cats to clone the endangered Scottish wildcat. This account of SCNT clearly states that it would produce a wildcat embryo:
It would work by developing the immature spayed-egg cells in vitro, to make them suitable for cloning. Then the eggs would be used to produce an embryo that contains the genetic material of the donor wildcat. This embryo would be transplanted in a surrogate cat.
For the rest of the animal kingdom, SCNT is a no-brainer. Egg + somatic cell nucleus = cloned embryo. But no so for humans. In humans, many people argue that SCNT is an entirely different process. In humans, it does not create a cloned embryo like in animals. Instead SCNT in humans only makes a clump of cells. For example, in Minnesota Medicine, an M.D. and a Ph.D. do a real snow job. http://www.lifenews.com/2011/08/26/what-cloning-advocates-dont-say-about-human-cloning/
Philippines: Sponsor Admits RH Bill About Population Control
As debate over the controversial Reproductive Health (RH) Bill continued Wednesday in the Philippine House of Representatives, a co-sponsor of the bill admitted that the RH Bill was a means to control the population size of poor Filipinos in apparent contradiction to statements made by other bill sponsors. http://www.lifenews.com/2011/08/26/philippines-sponsor-admits-rh-bill-about-population-control/
Minnesota Planned Parenthood Fundraiser Honors Dayton Staffer
The Minnesota affiliate of the Planned Parenthood abortion business will hold a fundraising gala Monday, August 29 at the Guthrie Theater in Minneapolis that, in part, honors the chief of staff of Governor Mark Dayton. http://www.lifenews.com/2011/08/26/minnesota-planned-parenthood-fundraiser-honors-dayton-staffer/
New Zealand Right to Life Comments on Supreme Court Decision
New Zealand Right to Life is commenting on the recent decision by the nation s Supreme Court allowing it to intervene in a case following up on a New Zealand Court of Appeal decision saying unborn children have no legal rights. http://www.lifenews.com/2011/08/26/new-zealand-right-to-life-comments-on-supreme-court-decision/
Adult Stem Cells Work Against Stress and Depression
Stress can stimulate production of new adult neural stem cells. An area of the brain known as the hippocampus responds to environmental conditions, including stress such as being held in isolation, and produces new neural stem cells that are stockpiled for later use. http://www.lifenews.com/2011/08/26/adult-stem-cells-work-against-stress-and-depression/
Nebraska Webcam Abortion Ban Goes Into Effect Saturday
Two new pro-life laws go into effect in Nebraska on Saturday one that requires teenagers to get parental consent before getting an abortion and another that is receiving more attention, that bans webcam abortions. http://www.lifenews.com/2011/08/26/nebraska-webcam-abortion-ban-goes-into-effect-saturday/

Encourage Friends to Sign Up for Free Pro-Life News From LifeNews.com