Pro-Life Leaders Arrested at Speaker Boehner's Office Demanding Vote on Late-Term Abortion Ban
March 25, 2015

By Cheryl Sullenger
Washington, DC - Eight pro-life leaders, including Operation Rescue's Troy Newman, were arrested this morning outside House Speaker John Boehner's office while kneeling in prayer and in protest that a vote on the Pain Capable Unborn Child Protection Act has not received a promised vote.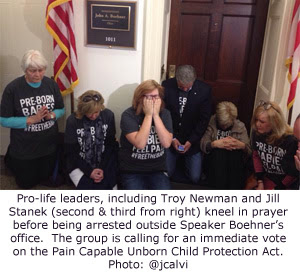 Other leaders placed under arrest included pro-life blogger Jill Stanek, Rev. Patrick J. Mahoney, Director of the Christian Defense Coalition, and Katie Mahoney, a long-time pro-life spokesperson.
It issue was the cancellation of a promised vote set for January 22, 2015, on the bill that would have banned abortions after 20 weeks in all 50 states. Pro-life leaders were promised that the vote would be re-scheduled "immediately," yet two months later, there is no vote in sight.
"We were betrayed, gave them 2 extra months. Get a vote together," said Troy Newman, President of Operation Rescue in a tweet posted by Jill Stanek.
Newman continued, "Though we may lose our freedom temporarily it's nothing compared to what happens to the babies."
The event was meant to draw public attention to the late-term abortion ban and the fact that it is being needlessly delayed.
[This is a breaking news story. Check OperationRescue.org and #FreeTheBan on Twitter and Facebook for updates.]
________________________________


ORDER ABORTION FREE




The new book,

Abortion Free

by Troy Newman and Cheryl Sullenger, tells step by step how to make your community abortion free! It is available for order at

Amazon.com.

________________________________
________________________________
About Operation Rescue®

Operation Rescue is one of the leading pro-life Christian activist organizations in the nation and has become a strong voice for the pro-life movement in America.
Operation Rescue is now headquartered in a former abortion clinic that it bought and closed in 2006. From there, Operation Rescue launches its innovative new strategies across the nation, exposing and closing abortion clinics through peaceful, legal means. Its activities are on the cutting edge of the abortion issue, taking direct action to stop abortion and ultimately restore legal personhood to the pre-born in obedience to biblical mandates. Click here to support Operation Rescue.
Click here to make a secure donation online
.
________________________________
Web site:
www.operationrescue.org
E-mail:
info.operationrescue@gmail.com