Nazi-like experimentation?
University of Hawaii Recruits Minors for Abortion Bleeding Experiment
Honolulu, HI - The University of Hawaii is recruiting patients as young as 14 for second-trimester abortions to determine how much they bleed during the procedure. The controversial study is already underway at the Kapiolani Medical Center in Honolulu, led by Bliss Kaneshiro, MD and Kate Whitehouse, DO.
In the randomized trial, researchers experiment by either providing or denying intravenous oxytocin to abortion patients. Oxytocin is commonly used to minimize blood loss and decrease the risk of hemorrhage. However, some doctors are concerned that denying oxytocin during surgery may put patients, especially teen girls, at risk.
Women beware of abortion clinics that offer other services!
Horrific Injuries Prompt Woman to Sue Kansas Abortionist for Botched Hysterectomy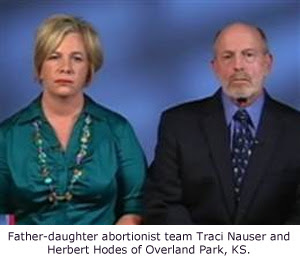 Overland Park, KS - A patient who underwent a hysterectomy in 2012 is now suing Kansas abortionists Herbert Hodes, Traci Nauser, and their abortion business, Center for Women's Health for medical negligence.
Telisa Boyd alleges that on September 18, 2012, she underwent a total laparoscopic hysterectomy using daVinci robots. The operative report indicated that both Hodes and Nauser conducted the surgery and that there were no complications during the surgery. She was sent home thinking that the surgery had been successful and without incident.
In case you missed it...
Ambulance Transports Hemorrhaging Patient From Wichita Abortion Clinic in Former Tiller Building
Wichita, KS - An ambulance was called to South Wind
Women's Center abortion facility in Wichita, Kansas, for a woman experiencing a medical emergency on March 26, 2015.
Operation Rescue was notified of the incident by the Kansas Coalition for Life, which maintains a continuous pro-life presence outside South Wind Women's Center during business hours.
The ambulance arrived at the abortion clinic at approximately 12:35 p.m. South Wind occupies the same building that once housed George Tiller's infamous late-term abortion business, which closed in 2009. South Wind purchased the building and reopened it as a first and early-second trimester abortion mill.
________________________________


ORDER ABORTION FREE




The new book,

Abortion Free

by Troy Newman and Cheryl Sullenger, tells step by step how to make your community abortion free! It is available for order at

Amazon.com.

________________________________
________________________________
About Operation Rescue®

Operation Rescue is one of the leading pro-life Christian activist organizations in the nation and has become a strong voice for the pro-life movement in America.
Operation Rescue is now headquartered in a former abortion clinic that it bought and closed in 2006. From there, Operation Rescue launches its innovative new strategies across the nation, exposing and closing abortion clinics through peaceful, legal means. Its activities are on the cutting edge of the abortion issue, taking direct action to stop abortion and ultimately restore legal personhood to the pre-born in obedience to biblical mandates. Click here to support Operation Rescue.
Click here to make a secure donation online
.
________________________________
Web site:
www.operationrescue.org
E-mail:
info.operationrescue@gmail.com







Operation Rescue

|

P.O. Box 782888

|

Wichita

|

KS

|

67278