Video Shows Why Sebelius Is "Not Fit To Serve" As HHS Secretary
Kansas Gov. Kathleen Sebelius has been named a frontrunner for the cabinet position of Secretary of Human Services. If nominated, Operation Rescue has vowed to oppose her confirmation.
Below is a video with powerful excerpts from "The O'Reilly Factor" which aired on May 30, 2007. O'Reilly takes Sebelius to task for her support of late-term abortionist George R. Tiller, who now faces criminal charges for having committed illegal late-term abortions. He states, "She is not fit to serve."
Also included are photos obtained by Operation Rescue that show evidence of a party hosted by Sebelius in April, 2007, in honor of Tiller's entire abortion clinic staff. Open records receipts and statements from a source who attended the party, Sebelius' excuses for the party simply cannot be believed. (Read a written analysis with documentation.)
Click on the picture below and watch this "must see" video to learn why Gov. Sebelius is "unfit to serve," then forward this critical information far and wide.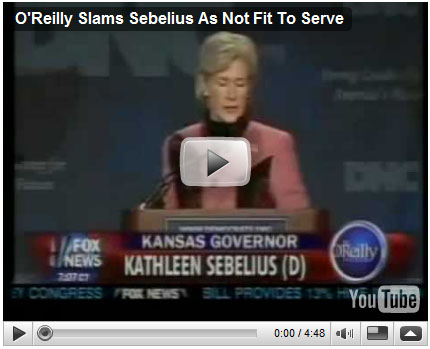 Watch for our new fact page on Sebelius' abortion entanglements coming soon!
________________________________
About Operation Rescue®
Operation Rescue is one of the leading pro-life Christian activist organizations in the nation. Operation Rescue recently made headlines when it bought and closed an abortion clinic in Wichita, Kansas and has become the voice of the pro-life activist movement in America. Its activities are on the cutting edge of the abortion issue, taking direct action to restore legal personhood to the pre-born and stop abortion in obedience to biblical mandates.
Click here to make a secure donation online
.
________________________________
Web site:
www.operationrescue.org
E-mail:
info@operationrescue.org