North Dakota Abortion Clinic Sues to Continue Dangerous Misuse of Abortion Pills

January 31, 2012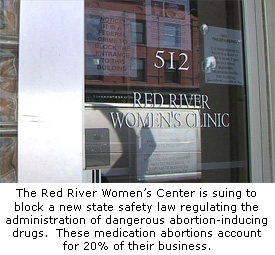 Fargo, North Dakota - The Red River Women's Clinic, which is the only abortion clinic in North Dakota, is challenging a new law that is aimed at protecting women from the misuse of the dangerous abortion-inducing drug mifeprex, also known as RU486.
East Central District Judge Wickham Corwin issued a temporary restraining order against the law on August 1, then heard arguments about its Constitutionality on Friday, January 27, 2012. Judge Corwin delayed making a decision until he could review more information about the safety of the drug. Additional briefs are due in two weeks.
The new law would virtually ban medication abortions in North Dakota and would place the requirement that a licensed physician be present when the drugs are administered. This would prevent what is known as telemed or "webcam" abortions from taking place where unlicensed and inadequately trained workers dispense the dangerous drugs after the patient has had a brief consultation over an Internet video conferencing connection with an abortionist in another location. This abortion pill distribution was first uncovered by an Operation Rescue undercover investigation.
Attorneys for the Center for Reproductive Rights, a pro-abortion New York law firm, argue that the law creates an "undue burden" on women.
Clinic director Tammy Kromenaker told reporters that the FDA protocol "isn't good for women" and defended her misuse of the two drug cocktail. Twenty percent of Kromenaker's annual abortion business is done in medication abortions.
"It is ludicrous to say that requiring steps to ensure patient safety creates an 'undue burden' on them. I'd rather be inconvenienced than dead," said Cheryl Sullenger, Senior Policy Advisor for Operation Rescue and Pro-life Nation. "This is really about keeping that abortion clinic open no matter who suffers."
Currently the Red River Women's Clinic uses an off-label application of the abortion pill in conjunction with an ulcer drug called Cytotec (Misoprostol) to force women to artificially abort their pre-born babies in an event that simulates miscarriage. Manufacturers of Cytotec have issued warnings against using the drug to induce abortions.
Red River Women's Clinic also uses the abortion pill in violation of FDA protocols, which require at least two office visits in addition to follow-up care and limits the use of RU-486 to under seven weeks. Red River improperly uses the abortion pill through nine weeks of pregnancy. The medication abortion process causes the body to reject the implanted baby and force contractions to expel the remains. It can be a long, painful process that lasts multiple days. The abortion fails 7-20% of the time, creating a potentially life-threatening condition that requires surgical intervention.
There have been at least 15 documented deaths from use of the abortion pill.
"We do not support the use of the abortion pill under any circumstances out of concern for women and their pre-born babies. However, the rejection of the FDA's minimal safety protocols by Red River Women's Clinic shows that they care more about protecting a significant portion of their abortion income than they care about the health and safety of women," said Sullenger. "They don't want to follow the rules they and they don't want to follow the law because they are abortionists and think they are above the law. We hope that the judge considering this case does the right thing and protects women from predatory abortion practices such as the dangerous misuse of abortion-causing drugs."
Order the powerful documentary "Bloodmoney" today!
________________________________
About Operation Rescue®
Operation Rescue is one of the leading pro-life Christian activist organizations in the nation and has become a strong voice for the pro-life movement in America. Operation Rescue is now headquartered in a former abortion clinic that it bought and closed in 2006. From there, Operation Rescue launches its innovative new strategies across the nation, exposing and closing abortion clinics through peaceful, legal means. Its activities are on the cutting edge of the abortion issue, taking direct action to stop abortion and ultimately restore legal personhood to the pre-born in obedience to biblical mandates. Click here to support Operation Rescue. Click here to make a secure donation online.
About Pro-Life Nation

Pro-Life Nation is an initiative of Operation Rescue that offers a goal-oriented strategy to end abortion. For more visit ProLifeNation.org and read our new booklet that details our strategy.
______________________________
__
Web site: www.operationrescue.org
E-mail:
info.operationrescue@gmail.com