Activists Will Stand for Life Outside NARAL's Macabre "Celebration" of Abortion Deaths

January 25, 2012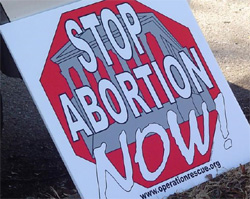 Washington, DC -- Operation Rescue and Pro-Life Nation encourage all pro-life activists to join Nancy Tanner and the Northern Virginia Chapter of the Silent No More Awareness Campaign on Thursday, January 26, 2012, as they pray and protest NARAL's annual macabre "celebration" of the deaths of millions of innocent babies through abortion.
Pro-life activists will meet at 5:30 p.m. outside the Washington Hilton, where the NARAL event will be held and will stand outside until 7:00 pm. Pro-lifers will then adjourn to a nearby restaurant, but be back outside the hotel before the NARAL party is over.
Please help spread the word!
Event details:
What: Pray and peacefully protest outside NARAL Pro-Choice America's Roe v. Wade 39th Anniversary Dinner with Silent No More Awareness Campaign
When: 5:30 p.m., Thursday, January 26, 2012
Where: Outside the Washington Hilton, 1919 Connecticut Avenue, NW, Washington, DC
Please forward this and post to your social networks!

Order the powerful documentary "Bloodmoney" today!
________________________________
About Operation Rescue®
Operation Rescue is one of the leading pro-life Christian activist organizations in the nation and has become a strong voice for the pro-life movement in America. Operation Rescue is now headquartered in a former abortion clinic that it bought and closed in 2006. From there, Operation Rescue launches its innovative new strategies across the nation, exposing and closing abortion clinics through peaceful, legal means. Its activities are on the cutting edge of the abortion issue, taking direct action to stop abortion and ultimately restore legal personhood to the pre-born in obedience to biblical mandates. Click here to support Operation Rescue. Click here to make a secure donation online.
About Pro-Life Nation

Pro-Life Nation is an initiative of Operation Rescue that offers a goal-oriented strategy to end abortion. For more visit ProLifeNation.org and read our new booklet that details our strategy.
______________________________
__
Web site: www.operationrescue.org
E-mail:
info.operationrescue@gmail.com