Pain Capable Unborn Child Protection Act Banning Barbaric Abortion Practice Introduced in U.S. Senate
By Cheryl Sullenger
Washington, DC - Stating that he is acting more on conscience than politics, Sen. Lindsey Graham will introduce today a version of the Pain Capable Unborn Child Protection Act in the U.S. Senate that would ban abortions after the fifth month of pregnancy when pre-born babies are known to feel pain. Sen. Marco Rubio has signed on as a co-sponsor.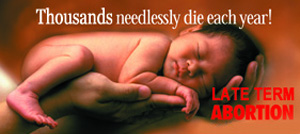 A similar, but slightly different bill was passed by the House earlier this year after a committee hearing that heard testimony scientific studies confirming pain is experienced by the baby in the womb even before the 20-week limit. Also shown at the hearing were photos obtained by Operation Rescue depicting late-term aborted babies taken by shocked employees at Douglas Karpen's abortion clinic in Houston, Texas, in July, 2012.
The introduction of the Senate version continues the wave of legislation aimed at halting abortions halfway through pregnancy and later. Such late-term abortion bans enjoy huge popular support as Americans more are embracing the pro-life position.
About Operation Rescue®

Operation Rescue is one of the leading pro-life Christian activist organizations in the nation and has become a strong voice for the pro-life movement in America. Operation Rescue is now headquartered in a former abortion clinic that it bought and closed in 2006. From there, Operation Rescue launches its innovative new strategies across the nation, exposing and closing abortion clinics through peaceful, legal means. Its activities are on the cutting edge of the abortion issue, taking direct action to stop abortion and ultimately restore legal personhood to the pre-born in obedience to biblical mandates. Click here to support Operation Rescue.
Click here to make a secure donation online
.
About Pro-Life Nation

Pro-Life Nation is an initiative of Operation Rescue that offers a goal-oriented strategy to end abortion. For more visit ProLifeNation.org and read our new booklet that details our strategy.
______________________________
__
Web site:
www.operationrescue.org
E-mail:
info.operationrescue@gmail.com