Truth Truck Travels Evoke Thumbs Up, Reflects Change in America 
April 12, 2010
Wichita, KS - One of Operation Rescue's Truth Trucks has returned to its home base in Kansas after having been on loan in Florida for several months displaying images of aborted babies at well-attended events like the Super Bowl, Pro-Bowl and Daytona 500.
Driver Mark Gietzen reports that throughout the entire 1,500 mile trip, he did not receive a single negative comment or gesture.
"There were a lot of folks along the way who wanted to wave at us, and to give us a 'thumbs-up' sign. One hundred percent of the interaction with other people on the road was positive. I think that says something about the mood in the country right now. Not even one person gave us a negative gesture," said Gietzen.
That change has been most noticeable since the election of Barack Obama and his efforts to force abortion funding on the American people through so-called health care reform.
"Recent polls show that support for the pro-life position has gained tremendous support over the past couple of years while support for abortion has tremendously decreased," said Operation Rescue President Troy Newman. "We are feeling the effects of this on the street as well as seeing it in falling numbers of abortion clinics nationwide. That increased grassroots opposition to abortion is translating into political power that could stun the abortion cartel during the November elections."
Operation Rescue operates a fleet of ten Truth Trucks that travel in areas from coast to coast exposing the human tragedy of abortion.
Call on KS Gov. Parkinson To Sign Late-Term Abortion Law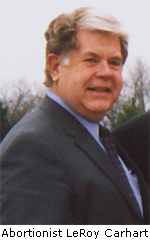 Topeka, KS - With the certain passage in Nebraska of the new ban on abortions after 20 weeks, rumors are circulating about what LeRoy Carhart's next move will be. Carhart is the late-term abortionist who once worked for George Tiller in Wichita, KS doing abortions through the third trimester of pregnancy. 
Carhart could look to Kansas for a new location for his late-term abortion business because the laws in Kansas are lax and unenforced.
However, a new bill that now sits on the desk of Kansas Gov. Mark Parkinson could change that, and make Carhart think twice about coming back to Kansas.  This bill would mandate the reporting of the exact diagnosis used to justify post-viability abortions, and would make it less likely that late-term abortions could take place, especially for frivolous reasons, as had been the case in the past.
Please contact Gov. Parkinson and ask him to sign HB 2115 into law. Parkinson, an abortion supporter, only has until April 15 to act, so please contact him today!
Contact Gov. Parkinson:
E-mail form
Voice: 877-579-6757
Help Send Planned Parenthood To Trial on 107 Criminal Charges!
Listen to 1-minute radio commentary airing on Bott Radio Network.

Topeka, KS - With 107 criminal charges against Planned Parenthood of Kansas and Mid-Missouri stalled for months in the Kansas Supreme Court, Operation Rescue has launched a petition to to send the illegal late-term abortion case to trial.
"Planned Parenthood has been investigated. A judge has found that there is probable cause to believe that it has broken the law. One hundred and seven criminal charges have been filed, twenty three of which are felonies. It's time to clear the log-jam, put aside political obstructionism, and allow this case to go forward to trial on its merits," said Operation Rescue President Troy Newman.