Gosnell Defense Rests Without A Witness as Judge Clarifies Murder Charge Dismissal
Hundreds of charges will go to the jury

April 24, 2013

By Cheryl Sullenger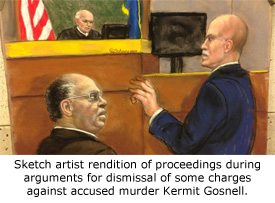 Philadelphia, PA - In a surprise move, the defense in the Kermit Gosnell murder trial has rested without calling a single witness. The news comes on the heals of a clarification by Judge Jeffery P. Minehart about a mix-up in the dismissal of one of the murder charges yesterday.

Closing arguments are set for Monday.
Yesterday's dismissal of nine criminal charges against accused murderer Kermit Gosnell stunned many who have followed this macabre case involving babies born alive during illegal late-term abortions then intentionally killed amid squalid conditions at Gosnell's "House of Horrors" abortion clinic.
Today, Judge Jeffery P. Minehart clarified that he did not intend to drop the First Degree Murder charges for Baby C, a baby witnesses said was breathing for 20 minutes before it was stabbed in the neck by Lynda Williams in Gosnell's presence.
Instead, murder charges should have been dismissed in the death of Baby F for which there was less compelling evidence.
Nevertheless, the dismissals are expected to have little effect on the trial's outcome. Court records show that Gosnell still faces over 380 criminal counts, including five murder charges. A conviction on any of the First Degree murder counts would mean he could still receive the death penalty or life in prison without parole.

________________________________

Operation Rescue is one of the leading pro-life Christian activist organizations in the nation and has become a strong voice for the pro-life movement in America. Operation Rescue is now headquartered in a former abortion clinic that it bought and closed in 2006. From there, Operation Rescue launches its innovative new strategies across the nation, exposing and closing abortion clinics through peaceful, legal means. Its activities are on the cutting edge of the abortion issue, taking direct action to stop abortion and ultimately restore legal personhood to the pre-born in obedience to biblical mandates. Click here to support Operation Rescue.
Click here to make a secure donation online
.
About Pro-Life Nation



Pro-Life Nation is an initiative of Operation Rescue that offers a goal-oriented strategy to end abortion. For more visit ProLifeNation.org and read our new booklet that details our strategy.
______________________________
__
Web site:
www.operationrescue.org
E-mail:
info.operationrescue@gmail.com