Impassioned Closing Arguments Stir Emotions in Gosnell Trial

April 29, 2013

By Cheryl Sullenger
Philadelphia, PA - With lead prosecutor Joanne Pescatore wiping away tears, Assistant Ed Cameron gave an impassioned plea for justice in the final moments of his closing arguments in the Kermit Gosnell murder trial that left an impression on the gallery and most likely the jury.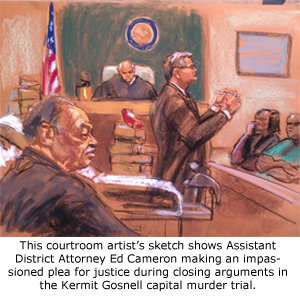 Cameron had the last word for the jurors today as he began by meticulously summarized the testimony of the 54 witnesses who testified in this capital murder case where Gosnell faces four counts of first degree murder for severing the spinal cords of babies born alive during illegal late-term abortions done amidst squalid conditions with grossly unqualified, poorly trained staff.
"Viability or survivability is irrelevant," Cameron told the jury, explaining that whether the babies were born alive is the standard the law asks them to consider.
"Outside the mother, all things change. It is a human being and has to be treated as such," Cameron continued, noting that to accelerate the death process was to commit murder.
While some of the testimony summaries given by Cameron seemed sometimes plodding, each point was important to counter defense arguments that every baby was dead when it "precipitated" because Gosnell used Digoxin in each and every case.

________________________________

Operation Rescue is one of the leading pro-life Christian activist organizations in the nation and has become a strong voice for the pro-life movement in America. Operation Rescue is now headquartered in a former abortion clinic that it bought and closed in 2006. From there, Operation Rescue launches its innovative new strategies across the nation, exposing and closing abortion clinics through peaceful, legal means. Its activities are on the cutting edge of the abortion issue, taking direct action to stop abortion and ultimately restore legal personhood to the pre-born in obedience to biblical mandates. Click here to support Operation Rescue.
Click here to make a secure donation online
.
About Pro-Life Nation



Pro-Life Nation is an initiative of Operation Rescue that offers a goal-oriented strategy to end abortion. For more visit ProLifeNation.org and read our new booklet that details our strategy.
______________________________
__
Web site:
www.operationrescue.org
E-mail:
info.operationrescue@gmail.com