BREAKING: Judge Upholds Order to Close Haskell's Cincinnati Area Abortion Facility
August 15, 2014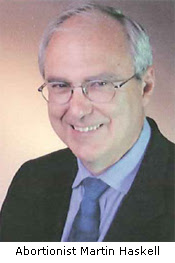 This news is just in: Late-term abortionist Martin Haskell has lost a bid to overturn an Ohio Health Department order to close his facility because it does not meet minimum requirements for licensure. Below is a release from Greater Cincinnati Right to Life, which has been working with Operation Rescue to expose wrongdoing at that facility and close it down.



"Today is a victory for the rule of law and for women and their babies who have been subjected to practices that endanger them," said Operation Rescue President Troy Newman. "We hope that Haskell will respect the law and shut down his illegal abortion business. If he doesn't, we pan to continue to work within the laws of Ohio to bring his dangerous abortion practice to an end."





Statement from Greater Cincinnati Right to Life:




August 15, 2014

(Cincinnati, OH): Today Hamilton County Court of Common Pleas Judge Jerry Metz heard arguments from lawyers for abortionist Martin Haskell and the Attorney General on Lebanon Road Surgery Center vs. State of Ohio Department of Health.