There are calls for a change in birth certificate regulations after a woman conceived by sperm donation had her adopted father erased as parent.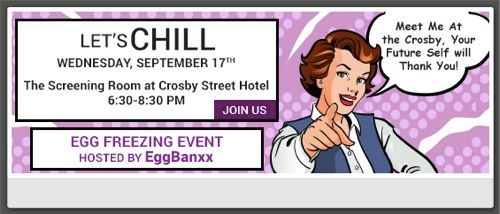 Commercialisation of IVF is crossing new frontiers in New York with "egg freezing parties" for career women who want to keep their options open. A company called EggBanxx will retrieve and store eggs – for about US$7,000 to $8000 per cycle. The first year of freezing is free. Here's the pitch:
A poster campaign distributed at 25 colleges and universities in the U.S. and Mexico calls students to question the predominance of 'hook-ups' and assures students there are healthy alternatives to the culture often promoted by university orientations.
The Vatican has released the schedule of Pope Francis' main liturgical celebrations for the month of September, during which he will publicly perform the marriage of 20 couples.
A spokesman for the New York City St. Patrick's Day Parade said the inclusion of an LGBT activist group in the traditionally Catholic parade was a "gesture of goodwill," though concerns have been raised that some outside groups aim to remove the event's Catholic character.
A disturbing trend in fertility science may see gay couples using IVF techniques to harvest eggs from one woman for implantation in a surrogate's uterus, to be fertilized using sperm from a male donor.
"About halfway through my last pregnancy, when I still had some semblance of energy left and didn't resemble a giant hippopotamus, I bounded into the gym for an aerobics class with my younger sister."