Lobos of Death: A Look at the Radical Abortion Agenda at the University of New Mexico
September 30, 2014
By Tara Shaver, Project Defending Life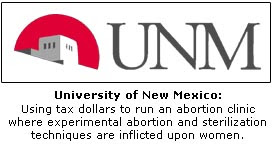 Albuquerque, NM- The University of New Mexico (UNM) is at the heart of the abortion industry in the Land of Enchantment.
During our four years of work in Albuquerque, the home of the Lobos, we discovered that the abortion culture is deeply entrenched at this publicly-funded institution and expanding - all at taxpayers' expense.
Little can New Mexico afford to pour hundreds of thousands of hard-earned tax dollars in to UNM's abortion business. It is one of the poorest states in the nation, ranking Number 1 for child hunger and Number 2 for adult hunger according to the
Huffington Post
. In 2013, New Mexico ranked last in the nation for child well-being, climbing only one spot to 49th in 2014.
Could it be that New Mexico's flagship institution is contributing to these troubling statistics by wasting its resources on its enormous abortion program?