---
Matt C. Abbott column

Abandoned: '...the best book ever written on abortion'


Matt C. Abbott

Veteran pro-life activist and Catholic author-theologian-professor — and mother — Monica Migliorino Miller, Ph.D., has authored a soon-to-be-released book titled Abandoned: The Untold Story of the Abortion Wars.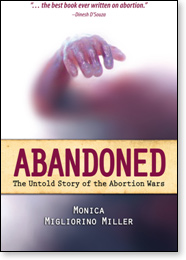 Abandoned has been praised by several pro-life leaders: Father Frank Pavone, Jill Stanek, Joe Scheidler, Teresa Tomeo, Jack Ames, David Bereit, Al Kresta, and best-selling author Dinesh D'Souza, who wrote:
"Quite simply, this is the best book ever written on abortion. Beautifully written, this is about the consequences of Roe v. Wade, as seen through the eyes of one woman, who tells a clear and compelling story with passion but without fanaticism. On a subject that is often heavy and depressing, this is a hard-hitting yet compassionate and moving book. Honestly, I wouldn't have thought such a narrative could be done, only now it has been done."
To purchase Abandoned, click here. (For a limited time, advanced orders will save 35 percent.)
Click below for a substantial excerpt from the book's prologue. Thanks to Monica Migliorino Miller and Rick Rotondi of Saint Benedict Press for allowing me to reproduce the excerpt in this column.

© Copyright 2012 by Matt C. Abbott
http://www.renewamerica.com/columns/abbott/120729