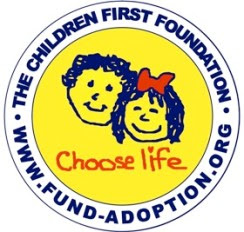 NEW YORK,

Oct. 27, 2014

/Christian Newswire/ -- Dr. Elizabeth Rex, President of The Children First Foundation (CFF), was pleasantly surprised when she read in the

September 21st

issue of the National Catholic Register that Mr. William F. B. O'Reilly, the spokesperson for the St. Patrick's Day Parade Committee, announced that "[a] pro-life group will be looked at very much favorably by the committee if they wish to march under a banner. We look forward to seeing their application when it comes in." Dr. Rex immediately contacted Mr. O'Reilly and he encouraged her organization to apply.
In her

September 24th

Application Letter to Mr. Dunleavy, the President of the St. Patrick's Day Parade Committee, Dr. Rex explained that the purpose of The Children First Foundation is to promote and support adoption as a positive choice for an unwanted pregnancy or newborn because CFF believes that adoption is a loving and courageous "pro-life choice" that deserves greater public awareness, understanding and support. Although CFF is a non-denominational and non-political organization, it has been officially endorsed by Cardinal Dolan, by the NYS Catholic Conference and by leaders and organizations of every background and religious affiliation, who also strongly promote adoption and safe havens as two "pro-life choices" that everyone can support.
In her application letter, Dr. Rex added a personal note and explained that she and her husband, Charles, were married in Saint Patrick's Cathedral on Monday, January 15, 1990, which happened to be the Martin Luther King, Jr. Holiday as well as then Cardinal O'Connor's birthday that year. "Cardinal O'Connor sent us a personal note of congratulations which we cherish to this day," she said. "It would be so special to march past St. Patrick's Cathedral in the 2015 Saint Patrick's Day Parade so shortly after celebrating our 25th Silver Wedding Anniversary."
As a Catholic woman of Irish heritage, Dr. Rex sincerely hopes the Parade Committee will soon give CFF a green light and warmly welcome its supporters to march in their 2015 St. Patrick's Day Parade. "Surely millions of Irish eyes will be smilin' -- in New York City and all over the Nation -- when they see our colorful banner on national television with its adorable logo - a drawing of two smiling children and the words Choose Life -- proudly marching up Fifth Avenue in the 2015 St. Patrick's Day Parade."