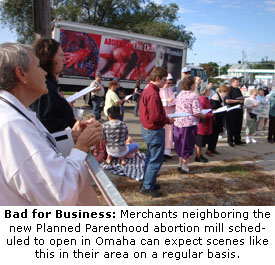 Omaha, NE - Planned Parenthood of the Heartland, headquartered in Des Moines, Iowa, announced that it will be opening up a new abortion clinic in Omaha, Nebraska, "late this year." The clinic will be in direct competition with LeRoy Carhart's Abortion and Contraception Clinic of Nebraska, located in nearby Bellevue, and with its own "telemed abortion" clinic across the Missouri River in Council Bluffs, Iowa.
"Planned Parenthood is over-saturating the market with abortion services. We know that Carhart's clinic only breaks even. They already operate a surgical abortion mill in Lincoln, a short drive away. The last abortion clinic in Omaha closed because the community would not allow it to relocate. I predict that at least one of these abortion clinics will got out of business within the next year for lack of business or for unsafe abortion practices," said Operation Rescue President Troy Newman.
The city of Omaha has been abortion-free since 2006 when the shoddy 
Women's Services PC
 was shuttered. The clinic's property had been purchased by the University of Nebraska Medical Center, which gave the clinic several months to move. However, the abortion business was unable to find a property owner who was willing to lease to them and was forced to close. That clinic's troubled abortionist,
C.J. LaBenz
, who made headlines for violently attacking a pro-life activist in 2002, now works for Planned Parenthood of the Heartland in Lincoln.
It is unknown if the new Omaha clinic will commit surgical abortions or represents an expansion of PPH's telemed abortion scheme.
"With Carhart also facing a Health Department investigation along with possible criminal charges for his run-down abortion operation, Planned Parenthood may be trying to squeeze him out of business. We've seen Planned Parenthood organizations in other areas engage in this kind of guerilla tactic an effort to eliminate the competition and corner the abortion market. With the demand for abortion dropping nationwide, there is strong competition for every abortion dollar," said Newman.
"Omaha has already proven to be unfriendly to abortion and we have great faith that strong pro-life community there will take all peaceful, legal action necessary to protect women and their babies from Planned Parenthood's predatory practices and insure that Omaha remains abortion-free."