Public Action Needed After Pro-Life Groups Send Letter Opposing Relicensing of Dangerous Birmingham Abortion Clinic
April 27, 2012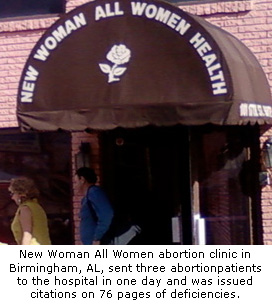 Birmingham, AL - A letter has been submitted to the Alabama Department of Health (ADPH) signed by national pro-life groups asking that the Department deny a pending license application to keep open the New Woman All Women abortion clinic that has been ordered closed by the state.
"We urgently need grassroots support for the permanent closure of this dangerous abortion clinic," said Troy Newman, President of Operation Rescue and Pro-Life Nation. "We are asking pro-life supporters all over the nation to contact the Alabama Department of Public Health and ask that they deny the new license application and close New Woman All Women for good."
On January 21, 2012, pro-life activists documented two women being carried from NWAW to ambulances waiting in a trash-strewn back alley. A copy of the 911 calls placed by clinic owner Diane Derzis were released to the public showing the women were overdosed by clinic staff. Pro-life witnesses filed complaints that resulted in the closure order after the ADPH inspected the abortion mill and discovered 76 pages of deficiencies, including documentation that a third abortion patient was sent to ICU that same day in January.
The letter, sent by Life Legal Defense Foundation, was also signed by Operation Rescue, Alabama Physicians for Life and CEC For Life. Among concerns listed in the letter is evidence that there is an improper affiliation between the new applicant, Ochata Management LLC and its agent Marianne Kelley Rain-water, and Diane Derzis, the current owner of the Birmingham abortion clinic.
Among the LLDF findings in public records:
On April 7, 2012 media in Birmingham News reported that ADPH's Brian Hale said that there were no applicants for a new license at that time. However, the LLDF found a copy of the license application from Marianne Kelley Rain-water, who is connected to Derzis dated March 30 - nearly a week before the media announcement and three days before Derzis even signed the order to surrender her license.
According to the consent order prepared by the ADPH, the entity applying for a new license must be "independent from and not affiliated with" New Woman or its officers or directors, including Diane Derzis. The LLDF letter asks, "How would Ms. Rain-water, a person who claims no previous affiliation with the mentioned parties, know to apply for the license of the New Woman facility days before Diane Derzis signed her consent agreement and ADPH notified the public?"
Ms. Rain-water's address is listed on the application as 1316 16th St S, Birmingham, AL. This residence is a home owned by Diane Derzis.
A background check on Ms. Rain-water reveals the use of multiple aliases across several different states. Her current driver's license uses the name M K Rain, not Rain-water.
The applying LLC on the Initial Licensure Application, Ochata Management, was created by Ms. Rain-Water on March 21, 2012 - just days prior to submitting her application. The lawyer who handled the incorporation of this LLC, Steve Cochrun, also handled the incorporation of Diane Derzis' LLC for her clinic in Columbus, GA.
"If the Alabama Department of Public Health allows this 'shell game' to continue, the LLDF will use all means necessary to make the ADPH abide by laws designed to protect women," said Dana Cody, Executive Director of LLDF.
According to the consent order, the ADPH has until May 4, 2012 to approve a new license to operate the clinic, and if none is approved, the abortion clinic will be forced to stop all abortions by May 11, and cease all operations by May 18, 2012.
"We have been informed that a decision on this new application will be made soon. We must let the ADPH and Gov. Bentley know now that we cannot tolerate this charade that will allow the abortion business to continue with essentially the same players in the background still running what has been proven to be a dangerous abortion operation. The clinic must be closed in order to protect women from suffering the fate of the three women who were hospitalized in January," said Newman.
Please contact the following people now:
Donald E. Williamson, State Health Officer
Voice: (334) 206-5200
Fax: (334) 206-2008
E-Mail: donwilliamson@adph.state.al.us  

 

Alabama Gov. Robert Bentley
Voice: (334) 242-7100
Fax: (334) 353-0004
E-Mail: http://governor.alabama.gov/contact/contact_form.aspx 
About Operation Rescue®
Operation Rescue is one of the leading pro-life Christian activist organizations in the nation and has become a strong voice for the pro-life movement in America. Operation Rescue is now headquartered in a former abortion clinic that it bought and closed in 2006.  From there, Operation Rescue launches its innovative new strategies across the nation, exposing and closing abortion clinics through peaceful, legal means. Its activities are on the cutting edge of the abortion issue, taking direct action to stop abortion and ultimately restore legal personhood to the pre-born in obedience to biblical mandates. Click here to support Operation Rescue.   Click here to make a secure donation online.

About Pro-Life Nation
Pro-Life Nation is an initiative of Operation Rescue that offers a goal-oriented strategy to end abortion.  For more visit ProLifeNation.org and read our new booklet that details our strategy.  
________________________________
Web site: www.operationrescue.org 
E-mail:
info.operationrescue@gmail.com