Urgent Action Needed Today to Ensure Alabama Abortion Mill Closes as Ordered
April 20, 2012
Inspections for new owners are expected TODAY.
Birmingham, AL - New Women All Women, a dangerous abortion mill in Birmingham, Alabama, that was recently ordered closed by the state is attempting to pull a fast one in order keep their business open.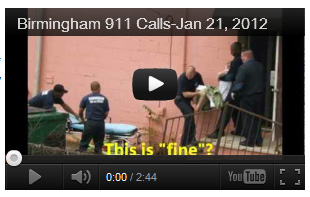 Click to view images and listen to the cold-hearted 911 calls. Please help us close this clinic permanently!
In fact, if this works, the abortion clinic would not miss one single day of business!
After viewing images of two women being carried out of that nasty abortion mill down stairs with a broken safety rail to gurneys waiting in a trash-strewn alley, and listening to the cold 911 tapes that proved the women suffered overdoses during abortions, we just cannot stand by and allow this travesty to happen.
But that's not all!
After pro-life activists documented and exposed this horrific incident, they reported NWAW to the authorities. As a result, the Alabama Department of Public Health issued a scathing 76-page deficiency report that showed dozens of violations - and perhaps most shocking - that a thirdabortion patient landed in ICU the same day from abortion complications that resulting from a lack of monitoring.
The Health Department issued NWAW an order to close by May 18 and to cease abortion operations by May 11. The entire pro-life movement celebrated the impending closure of this dangerous abortion mill.
But here's the critical issue that faces us now.
The closure agreement gave NWAW's owner Diane Derzis, dubbed by Alabama legislators as the "Abortion Queen", the opportunity to transfer ownership of the abortion business to another person. Derzis has a reputation of being a tough and deviouswoman. We found out that arrangements had been made to transfer ownership evenbefore Derzis signed the closure agreement with the Department of Public Health.
We have every reason to believe that this is a bogus "in-name-only" switch designed to deceive the authorities and the public.
An inspection is scheduled for TODAY that could clear the way for approval of this dubious new ownership situation.
This is the same tactic that the notorious New Jersey abortionist Steven Chase Brighamused to keep his two Pennsylvania abortion clinics running in Allentown and Pittsburgh. After being ordered to cease and desist from operating his seedy abortion mills by the State of Pennsylvania, he transferred ownership to his mother and kept them running business as usual!
But the authorities in Pennsylvania saw through this scam and just yesterday ordered his Pittsburgh mill to close - Allentown was ordered closed last week - all because pro-life supporters kept the heat on the authorities and would not let the matter rest.
We need a victory like this in Alabama, but we cannot do this without your help!
The situation in Birmingham is urgent. If this dangerous clinic is allowed to continue operations, there can be no doubt that women will die along with their innocent babies.
Please take a quick moment to contact the Department of Public Health and the Governor's office and ask them to step in and block this phony paper transfer in the interest of public safety.
We also need you to post this information on your social networking sites andforward it to everyone you know. Let's light up the phone lines and e-mail in boxes of these authorities so they know people are watching them and will hold them accountable for their actions.
Your voice in defense of the babies is needed right now. Tomorrow might be too late.
Donald E. Williamson, State Health Officer
Voice: (334) 206-5200
Fax: (334) 206-2008
E-Mail: donwilliamson@adph.state.al.us  

 

Alabama Gov. Robert Bentley
Voice: (334) 242-7100
Fax: (334) 353-0004
E-Mail: http://governor.alabama.gov/contact/contact_form.aspx 
Background
Read the 76-page deficiency report
About Operation Rescue®
Operation Rescue is one of the leading pro-life Christian activist organizations in the nation and has become a strong voice for the pro-life movement in America. Operation Rescue is now headquartered in a former abortion clinic that it bought and closed in 2006.  From there, Operation Rescue launches its innovative new strategies across the nation, exposing and closing abortion clinics through peaceful, legal means. Its activities are on the cutting edge of the abortion issue, taking direct action to stop abortion and ultimately restore legal personhood to the pre-born in obedience to biblical mandates. Click here to support Operation Rescue.   Click here to make a secure donation online.

About Pro-Life Nation

Pro-Life Nation is an initiative of Operation Rescue that offers a goal-oriented strategy to end abortion.  For more visit ProLifeNation.org and read our new booklet that details our strategy. 
________________________________
Web site: www.operationrescue.org 
E-mail:
info.operationrescue@gmail.com