Wisconsin Planned Parenthood Halts Medication Abortions While Bans March Through States
April 23, 2012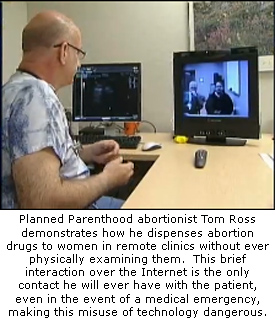 Madison, WI - Planned Parenthood announced last week that it would stop dispensing abortion pills at all of its Wisconsin locations after Gov. Scott Walker signed a bill into law banning the dangerous drugs without the presence of a license physician. This law virtually bans the practice of telemed, or webcam abortions.
Medication abortions account for about 25% of all abortions in Wisconsin.
"This new law will certainly save lives and we thank the Wisconsin Legislature and Gov. Walker for acting to protect women from predatory webcam abortion practices that attempt to increase abortion profits by cutting corners on women's health and safety," said Troy Newman, President of Operation Rescue and Pro-Life Nation.
"This has been a textbook example of how activism encourages legislation. Once we discovered the webcam abortions in Iowa, we worked with other organizations to create legislation. That legislation has been picked up by other groups and guided through the legislative process. The result is positive change and increased protections for women that will result in fewer abortions."
Operation Rescue first uncovered the experimental abortion pill distribution scheme that was being conducted by Planned Parenthood of the Heartland in Iowa, and reported on it in March, 2010, then exposed plans by Planned Parenthood Federation of America to expand the scheme into every one of their clinics nationwide.
Since then several states have worked to prevent the expansion of the dangerous abortion process. Wisconsin joins Arizona, Nebraska, Kansas, and South Dakota in banning webcam abortions. North Dakota and Oklahoma have also passed webcam bans that are currently in the process of litigation.
Elsewhere, a ban on webcam abortions passed its final hurdle in the Minnesota Legislature last Wednesday, and now heads to the desk of Gov. Mark Dayton, a pro-abortion Democrat. It is unknown whether he intends to sign the bill or exercise his veto.
The following day, another webcam abortion ban overwhelmingly passed the Missouri House with a vote of 109-24. It now moves on to the Senate.
Webcam bans have also been introduced during the current legislative session in Alabama, Indiana, Iowa, Michigan, Mississippi, Oklahoma, and Tennessee, according to the Guttmacher Institute, a pro-abortion organization that tracks abortion trends. In addition, Rep. Steve King of Iowa is seeking federal legislation to stop webcam abortions.
During the webcam abortion process, the abortionist conducts a brief interview with a potential abortion patient in another location over an Internet video conferencing connection. The abortionist then pushes a button on his or her computer screen that releases a "cash drawer" containing the abortion drugs. The woman self-administers some of the drugs immediately and is then released to take the rest of the drugs at home. The patient is never examined by a licensed physician, and in the case of an emergency, there is no accessibility to the prescribing abortionist. The process violates FDA safety protocols on numerous points.
The abortion pill, known as RU486, Mifepristone, or Mifeprex, is responsible for at least 16 patient deaths and thousands of abortion complications. When the pills fail, a surgical abortion can be necessary to save the woman's life from infection caused by retained fetal tissue.
"There can be no doubt that halting the misuse of abortion drugs will save the lives of women and their babies. Because of this we are working to halt the practice of telemed abortions nationwide," said Newman.
About Operation Rescue®
Operation Rescue is one of the leading pro-life Christian activist organizations in the nation and has become a strong voice for the pro-life movement in America. Operation Rescue is now headquartered in a former abortion clinic that it bought and closed in 2006.  From there, Operation Rescue launches its innovative new strategies across the nation, exposing and closing abortion clinics through peaceful, legal means. Its activities are on the cutting edge of the abortion issue, taking direct action to stop abortion and ultimately restore legal personhood to the pre-born in obedience to biblical mandates. Click here to support Operation Rescue.   Click here to make a secure donation online.

About Pro-Life Nation

Pro-Life Nation is an initiative of Operation Rescue that offers a goal-oriented strategy to end abortion.  For more visit ProLifeNation.org and read our new booklet that details our strategy. 
________________________________
Web site: www.operationrescue.org 
E-mail:
info.operationrescue@gmail.com