OR works to stop largest expansion of abortion services since Roe v. Wade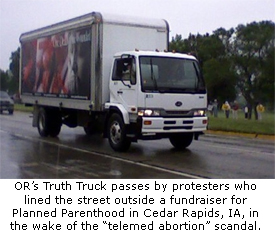 Cedar Rapids, IA — Planned Parenthood Federation of America (PPFA) revealed yesterday that expanding medical abortions into every Planned Parenthood clinic in the country through the use of the "telemed abortion" scheme is part of PPFA's Strategic Plan for 2015.
The plan was revealed during a protest of Planned Parenthood organized by the Pro-Life Action League. Operation Rescue joined about 50 pro-lifers who braved the cold and rain to protest a Planned Parenthood fund-raising banquet in Cedar Rapids, Iowa, in the wake of the "telemed abortion" scandal in that state.
Operation Rescue's Omaha-based Truth Truck was also on hand, circling the hotel where Cecile Richard, President of PPFA, delivered the keynote speech at the 30 year anniversary celebration of Planned Parenthood in Cedar Rapids. Pro-lifers sent the message that abortion was nothing to celebrate.
Tara Shaver, Operation Rescue's researcher who helped uncover Planned Parenthood's telemed abortion scheme, gave a number of interviews to the press, including Iowa Public Radio. That report revealed that the telemed abortion process is beginning to expand throughout Iowa, with plans to expand it throughout the nation during the next five years.
Telemed abortion is a process where dangerous abortion pills are dispensed via teleconferencing hook-up. An abortionist sits in front of a webcam and pushes a button to electronically open a drawer in the faraway clinic containing the drugs. A licensed physician never physically examines the woman at anytime.
Operation Rescue has filed complaints with the Iowa Board of Medicine against Planned Parenthood alleging that the telemed abortion scheme is dangerous, illegal, and violates FDA protocols for usage of the drug, known as RU486, or Mifepristone. The Board is investigating.
"If this push-button abortion scheme is allowed to spread, it will only increase the number of abortions at a time when abortion rates are falling and abortion clinics are closing," said Operation Rescue President Troy Newman. "Not only will more babies die, but women will be placed in increased danger of serious medical complications or death, with no real emergency plan other than to make patients fend for themselves at whatever emergency room they can find."
Abortion rates nationally have dropped, as have the number of surgical abortion clinics. However, in Iowa, abortion rates have remained steady as telemed abortions have offset the decrease in the number of surgical abortions.
"In addition to the dangers, telemed abortions are a cash cow for the abortion cartel. Planned Parenthood is charging insurance companies twice the price of cash patients, without having to pay an on-site abortionist. If this dangerous scheme is allowed to spread, it will increase health care costs for everyone," said Newman.
Listen to Iowa Public Radio's Report
Read OR's Special Report on Telemed Abortions
About Operation Rescue® 

Operation Rescue is one of the leading pro-life Christian activist organizations in the nation and has become a strong voice for the pro-life movement in America. Operation Rescue is now headquartered in a former abortion clinic that it bought and closed in 2006.  From there, Operation Rescue launches its innovative new strategies across the nation, exposing and closing abortion clinics through peaceful, legal means. Its activities are on the cutting edge of the abortion issue, taking direct action to stop abortion and ultimately restore legal personhood to the pre-born in obedience to biblical mandates.Click here to support Operation Rescue.  

________________________________
Web site: www.operationrescue.org
E-mail: info@operationrescue.org