Operation Rescue releases a letter from the Iowa Board of Medicine confirming that PP is under investigation.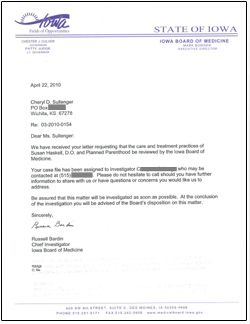 Cedar Rapids, Iowa – Operation Rescue will send a Truth Truck and staff members to Cedar Rapids, Iowa, this week to participate in a press conference and protest of Planned Parenthood of the Heartland (PPH), at a banquet featuring Cecile Richards, President of Planned Parenthood Federation of America.
Operation Rescue also released a letter it received from the Iowa Board of Medicine stating that the Board is investigating complaints against PPH for violations regarding "telemed abortions."
"Telemed abortions" involve the distribution of dangerous abortion pills at remote clinics via teleconferencing hookup. After the patient has a brief conversation over the Internet with an abortionist who could be hundreds of miles away, a button is pushed that opens a drawer containing the abortion drugs. No licensed physician ever personally examines the women at any time during the entire abortion process, which can be extremely painful and lasts several days.
View the Iowa Board of Medicine letter confirming the matter is under investigation.
The press conference and protest are being organized by the Pro-life Action League of Chicago, Illinois.
Operation Rescue Investigator Tara Shaver, who helped uncover Planned Parenthood's telemed abortion scheme, will be on hand and available for interview at the press conference and protest that will take place in Cedar Rapids on Thursday, May 20, 2010.
• 4:30 p.m. Rally and press conference in the St. Pius X Church parking lot (map)
• 5:00 p.m. Protest outside Cedar Rapids Marriott at 1200 Collins Road NE (map)
Other Planned Parenthood organizations in several states are currently under investigation for concealing child rape. In Kansas, Planned Parenthood faces 107 criminal charges related to illegal late-term abortions.
"Cecile Richards has a lot to answer for. Not only is her organization responsible for the largest number of abortions in the U.S., but it is also suspected of committing crimes all across the nation," said Operation Rescue President Troy Newman. "The protest is really a public service because women need to be aware of the dangers to life and limb that lurk at Planned Parenthood. Women are being injured, babies are dying, and crimes are being committed. Planned Parenthood has run amok long enough."
Read "Faraway Doctors Give Abortion Pills By Video," May 16, 2010, Des Moines Register
About Operation Rescue® 

Operation Rescue is one of the leading pro-life Christian activist organizations in the nation and has become a strong voice for the pro-life movement in America. Operation Rescue is now headquartered in a former abortion clinic that it bought and closed in 2006.  From there, Operation Rescue launches its innovative new strategies across the nation, exposing and closing abortion clinics through peaceful, legal means. Its activities are on the cutting edge of the abortion issue, taking direct action to stop abortion and ultimately restore legal personhood to the pre-born in obedience to biblical mandates.Click here to support Operation Rescue.  

________________________________
Web site: www.operationrescue.org
E-mail: info@operationrescue.org