John Paul II admonishes the faithful in Evangelium vitae "to be unconditionally pro-life" (EV 28). In our day, with the dramatic clash between the "culture of death" and "culture of life," this summons, he says, is not a mere suggestion; it is an "inescapable responsibility." This raises an unavoidable question: what does it mean to be unconditionally pro-life? In other words, what are the concrete implications of this imperative for our life of action?
"Somehow my heart has been softened - I'm no longer counting down my fertile years, fearfully anticipating just how large of a van we're going to need by the time I'm 40... At this point? I think it's likely we'll have somewhere in the neighborhood of 10 kids."
"I joke with people that we have finally gotten 'good' at NFP. Which basically means, we have started listening to the signs of fertility. But thing is, when we 'sucked' at NFP, we got the coolest gift because of it. It's almost been a year since John Paul was born and I can tell you, he has made me a better person. "
Archbishop Charles Chaput of Philadelphia announced Sunday that St. John Paul II and St. Gianna Beretta Molla will be

patron saints

of the 2015 World Meeting of Families, being held in his cathedral city.
A Swedish nurse is suing after a women's center rescinded its job offer to her because she said her faith prevented her from performing abortions.
"NFP isn't a thing. I can't hold it in my hand, or put it in a drawer, or carry it around in a shopping bag. It isn't a drug that we take. It isn't even a tool (although it often involves "tools" like charts and thermometers or fertility monitors and the like). NFP isn't a tangible thing at all."
It's been a long, long time since I was a first-time dad trying frantically to figure out what to do (in the absence of my wife) when our newborn daughter would cry, seemingly inconsolable.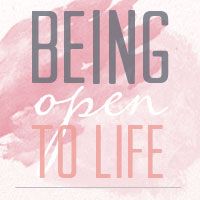 "I want complete oneness with Jason. I want to never take him, nor the fact that we get to make love to each other, and only each other, for the rest of our lives, for granted. Not using contraception is the biggest and most effective way we guard against that."