50 Preborn Defenders Unload in Atlanta Today
Columbus, OH – July 15, 2014 – Created Equal's team of

preborn

defenders arrives in Atlanta today! The theme for this Justice Ride is "Against the Current." The industry of abortion has spent decades pouring into a propaganda system to dehumanize

preborn

children, but our team is boldly standing against that tide. We are a

counter-culture

movement committed to a very simple truth: that all humans are created equal—male or female, rich or poor, born or preborn.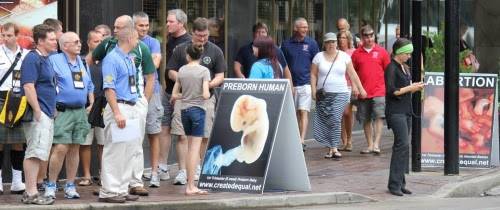 Justice Ride
in Atlanta
Who: Created Equal
What: Justice Ride

featuring

high school & college students displaying pictures of

preborn

victims of abortion on signs and engaging in conversation with passersby
Where: Five Points, 22 Georgia State Bicycle Route 45, Atlanta GA 30303
When: 12:30 – 3:30 PM
Click here to see photos of our team in Cincinnati yesterday
The Freedom Riders of the 1960s stood boldly against the swell of racism coursing through our nation. Today, Justice Riders stand against the current of ageism, and we will continue to

ride

until equality is a reality for America.
WILL YOU SUPPORT OUR JUSTICE RIDE? YOUR GIFT OF $5, $10, $20 OR MORE ENABLES OUR TEAM TO DEFEND THE LIVES OF ALL HUMANS, BORN OR PREBORN, AND SPREAD THE TRUTH OF EQUALITY.
For the babies,
(

insert

signature)
Mark Harrington
Executive Director, Created Equal
PS - To financially support Created Equal, send your check to: Created Equal, PO Box 360502, Columbus, OH 43236. Or give electronically HERE.
Find us on Facebook, follow us on Twitter, and subscribe on

Youtube

.


Created Equal, PO Box, 360502, Columbus, OH 43236, USA