---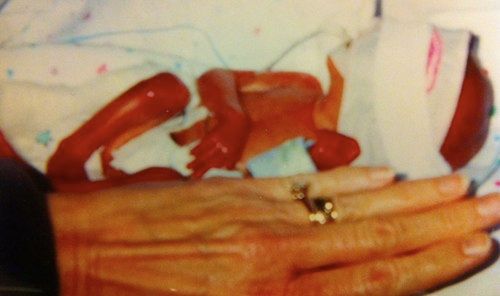 Posted:

10 May 2013 12:43 PM PDT
When Jason and I visited our girls in the NICU, we had to pass a late-term abortion clinic (since closed). It was gut-wrenching to think that at that very moment other doctors and nurses were ending the lives of children who were the very same age and size as our precious girls.
Posted:

10 May 2013 08:45 AM PDT
A pro-life poster has been returned to the walls of a North Dakota high school after it was removed following receipt of a complaint from a disgruntled parent.
Posted:

10 May 2013 07:53 AM PDT
Saline abortions are seldom performed today because of the danger to the mother and the possibility of live births, but in the 1970s and '80s, they were very common. They were generally used to end pregnancies towards the end of the second trimester.
Posted:

10 May 2013 04:56 AM PDT
The U.S. Dept. of Education announced new terminology for federal student aid forms to describe parents regardless of their marital status or gender. The new monikers will be used beginning with the 2014-2015 year.
Posted:

10 May 2013 04:30 AM PDT
New footage by an undercover investigative group shows a prominent late-term abortionist joking about the abortion procedure and telling women not to seek emergency care if something were to go wrong.
Posted:

10 May 2013 01:08 AM PDT
Working in real estate affords me a candid peek into different types of living arrangements, many of which are considered unconventional. You'd think I'd be used to some things having been in this business close to a decade. But I will never ever get used to the well meaning parents who casually co-sign for their children to cohabitate with their significant others. That, that right there blows my mind.
Posted:

10 May 2013 12:05 AM PDT
An Ohio prosecutor vowed Thursday to pursue murder charges against the Cleveland kidnapping suspect for terminating the pregnancies of the women he is accused of holding captive for a decade.
Posted:

10 May 2013 12:01 AM PDT
A growing laissez-faire libertarian attitude toward social issues among Americans is arguably the most important weapon available to same-sex 'marriage' advocates. Certainly there are LGBT militants with unwavering commitment to the issue, but the vast majority of those who "support" same-sex 'marriage' can hardly be said to support anything.
Posted:

10 May 2013 12:00 AM PDT
There's a reason why breaking up from a sexual relationship is much more emotionally painful and much harder to forget than one that didn't involve sex. There are several neurochemical processes that occur during sex, which are the "glue" to human bonding.