Heading into the final week of this 40 Days for Life campaign, we now know of at least 437 babies whose mothers had a change of heart and rejected abortion.

Praise God – He's answering your prayers!

Here are a couple of the stories that show Christ's love in action.



Minneapolis, Minnesota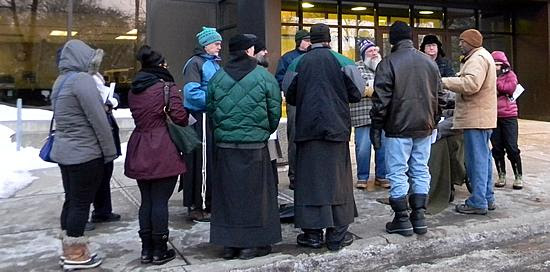 A couple of sidewalk counselors approached a young woman outside the abortion center in Minneapolis, and she agreed to stop and talk. The counselors were both parents, and both greatly concerned that someone so young was arriving for an abortion.

They told her about the many forms of help that are available, but she just smiled and said she had to keep her appointment. They did learn her name, and the fact that her mother would be joining her soon.

After a while, a woman arrived – and the counselors asked if she was the young girl's mother. She said she was – and said that she did not want her daughter to have the abortion, but that it was her choice.

The volunteer said, "She is not capable of making a life-changing decision like this at her age. It is up to you, as her mother, to stop this abortion from happening!" The mom listened … then went inside.

Sometime later, mother and daughter exited the building and walked towards the car. The volunteer called to them, and they stopped to talk.

"We have changed our minds about having the abortion," the mother said. She said that she herself was a teenager when her daughter was born. They then left with the baby's father and his family.
The volunteer said, "He looked about 15 years old. I gave them information on pregnancy centers and told them we would stay in touch."



Fort Lauderdale, Florida




John Aman in Fort Lauderdale reports a save story that has a bit of a twist. "Stay with me here," he said.

The 40 Days for Life team had an opportunity to be on the radio at the start of the campaign, with Juan Garcia interviewing Tewannah Aman on his morning show on La Nueva 88.3 FM.

"Talking with her about 40 Days for Life so moved him that he spent five days telling his radio audience about the sanctity of human life," John said. "On one of those mornings, he specifically prayed that a child would be saved from abortion by his radio messages."

A week later, a woman called in to say that she heard Juan on the radio the same day she was scheduled to have an abortion.

"Long story short," John said, "she is keeping her baby! God is hearing and answering our prayers! Let's be faithful to do our part … and He will do His!"

Today's devotional is from Rev. Ben Sheldon, president emeritus of Presbyterians Pro-life.



Day 34 intention



We pray for the conversion of abortionists and all abortion advocates.



Scripture

Wash yourselves, make yourselves clean; Put away the evil of your doings from before My eyes.

Cease to do evil, Learn to do good; Seek justice, Rebuke the oppressor; Defend the fatherless, Plead for the widow.

— Isaiah 1:16-17



Reflection by Rev. Ben Sheldon



God is just.

Inscribed around the inside of the Jefferson Memorial in Washington, DC, are the immortal words of Thomas Jefferson: "I tremble for my country when I reflect that God is just."

If the deist, Jefferson, knew in the depths of his being that God is just, how much more ought we Christians to reflect on this profound truth?

The justice of God, like his holiness and his purity, encourages us to seek justice for all people.

It is the evil deeds and wrong, selfish attitudes of our modern society that have led to the cavalier acceptance of abortion and euthanasia.

But, as Jefferson also said, "his justice will not sleep forever."

God is calling us today to seek justice, to encourage the oppressed, and to defend the orphans and widows of our society.

It is a noble calling! It is one which every true believer, every God-fearing man and woman, should heed with no hesitation and no reluctance.

To follow the God of justice and truth is to stand unequivocally for the right to life of everyone, especially the unborn, the physically disabled, and the terminally ill.

God's word through the prophet Isaiah is as relevant in today's 21st century world as it was in Isaiah's 8th century BC world.

May God's grace help us to defend the unborn's right to life as well as that of the already born.



Prayer



O God, our heavenly Father, give us courage and wisdom as we seek to eradicate the evil in our society.

Help us to realize that your divine Spirit alone can change hearts and minds so that all your human creatures may enjoy the fullness of life you intended for them.

I pray this prayer in the name of Jesus Christ, my Lord and Savior, Amen.



Printable devotional



To download today's devotional as a formatted, printable PDF to share:

http://40daysforlife.com/docs/spring2014day34print.pdf
| | |
| --- | --- |
| | SHAWN CARNEY |
PS: There are miracles happening every day at 40 Days for Life locations near and far. Please share good news about the campaign by replying to today's blog entry at:

http://40daysforlife.com/blog/?p=5806