According to one researcher, one in four women will have an abortion by age 25. That makes college campuses a prime target for the abortion industry. But that also offers opportunities for college students to enthusiastically defend life … and help their peers who are considering abortion.
It was in a college town that 40 Days for Life began.
Planned Parenthood saw the 60,000 college students at Texas A&M and a local junior college as a huge market. But as you may know, their facility in College Station, Texas closed its doors forever last summer. So have faith!
Steve Karlen, who also got involved in 40 Days for Life in a college town, has been on the road again … this time in Michigan. Among the places Steve stopped were three areas that are home to large universities.
Here's Steve's update.
Ann Arbor, Michigan

Given my experience in helping to keep late-term abortion out of a Big Ten university in my hometown of Madison, Wisconsin … I was intrigued by the University of Michigan's involvement in the abortion industry.

The local leaders in Ann Arbor were horrified by a taxpayer-funded celebration of abortion called "4,000 Years of Choice" – an exhibit that was hosted by the public university.
I also learned that three doctors who are associated with the university perform abortions at the Planned Parenthood facility.



Lansing, Michigan





Participants in Lansing shared the disturbing news that on the Michigan State University campus (technically in East Lansing), there is a club for "future abortion providers." That's just ghastly.

The good news is that the abortion facility has been closed for much of the campaign. And when it is open, client numbers are down. Cecilia, the local director, reports a more than 40 percent drop in the number of abortions.

The leaders keep thorough records about this abortion facility, and they've asked authorities to investigate reports of possible legal violations. For instance, they've heard allegations that the abortion center staff has refused to show clients their ultrasound images. State law says the women are entitled to see them.



Kalamazoo, Michigan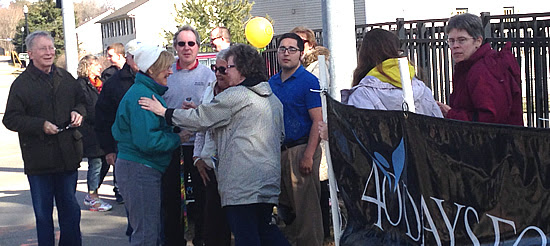 Kalamazoo is also a college town – the home of Western Michigan University. When I visited the 40 Days for Life vigil, we had a nice turnout ... on a very busy street. In fact, it was so busy that I literally had to shout my entire speech at the top of my lungs!

The Planned Parenthood center here had posted an official-looking sign informing their clients that the people on the sidewalk were not their employees. Of course, those are the prayer volunteers.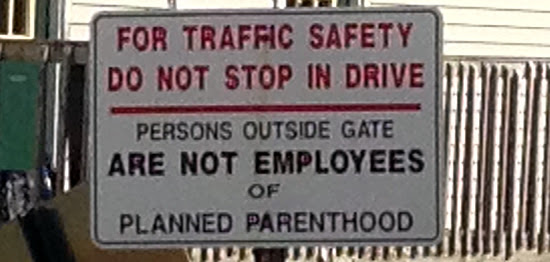 Clients are also told it's not safe to stop in the driveway. Of course, the sidewalk next to the driveway just happens to be a very convenient place for the vigil participants to stand, smile and hand out positive pregnancy resource information. I have a feeling their primary concern is something other than safety!

Thanks to Steve Karlen for this update on 40 Days for Life in Michigan!

Today's devotional is from Carmen Pate of Alliance Ministries.

Day 35 intention


Pray that all believers participating in this 40 Days for Life campaign will make every effort to keep the unity of the Spirit through the bond of peace (Ephesians 4:3).



Scripture



And the glory which You gave Me, I have given them, that they may be one just as We are one: I in them, and You in Me; that they may be made perfect in one, and that the world may know that You have sent Me, and have loved them as You have loved Me.

— John 17:22-23



Reflection by Carmen Pate



Christ prayed that all those who would believe in Him would be united in single purpose and spirit, just as He and the Father were united.

I find it convicting to consider that those who would run to Jesus with their sins, seeking forgiveness, and falling in love with the Savior, often run from Christians today.

Is it because they see division and dissension instead of unity and peace?

No doubt Christ is pleased to see the body unified and praying together during these 40 days.

This is exactly what we see when we read about the beginnings of the church. Both the unity and the prayer are conspicuous, along with the results of unified prayer.

Acts 2:46-47 tells us, "So continuing daily with one accord in the temple, and breaking bread from house to house, they ate their food with gladness and simplicity of heart, praising God and having favor with all the people. And the Lord added to the church daily those who were being saved."

No doubt the enemy is disheartened to see the unity in prayer, fasting and peaceful vigil, and he will continuously try to disrupt the bond of peace among brothers and sisters in Christ.

Let us guard our hearts and minds, exhibiting the love of Christ that He so graciously gives us, so that those watching will see the love among us and know that He must love them too!



Prayer



Heavenly Father, give us grace in every situation to work toward unity. With humility, gentleness, and patience, may we endeavor to keep the unity of the Spirit in the bond of peace.

There are hurting men and women Lord at the crossroads of life and death who are looking for love and peace in their lives.

May they see Christ in us and be drawn to the abundant life that only He can give. It is in Christ's precious name that we pray, Amen.



Printable devotional



| | |
| --- | --- |
| | SHAWN CARNEY |
PS: If you have stories to share about the 40 Days for Life campaign in your area, please respond to today's blog entry at:

http://40daysforlife.com/blog/?p=5852