HOT: Operation Rescue's Top Ten Victories of 2011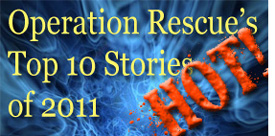 Click to read about these amazing victories for Life!
Operation Rescue has published our Top Ten stories for 2011. Each of these stories represents achievements that are the result of OR's efforts and leadership throughout the year.
We thank God for allowing us the privilege of laboring in the pro-life movement side by side with so many fine activists across the nation. This work would not be possible without their partnership and the support and prayers of so many faithful people. We look forward to 2012 with excitement and anticipation of greater things to come.
Please click here to make a special year-end gift to Operation Rescue's exciting, life-saving work.
Order the powerful documentary "Bloodmoney" today!
For every DVD purchased Operation Rescue will receive $5 that will go to help us in our work to end abortion.
________________________________
About Operation Rescue®
Operation Rescue is one of the leading pro-life Christian activist organizations in the nation and has become a strong voice for the pro-life movement in America. Operation Rescue is now headquartered in a former abortion clinic that it bought and closed in 2006.  From there, Operation Rescue launches its innovative new strategies across the nation, exposing and closing abortion clinics through peaceful, legal means. Its activities are on the cutting edge of the abortion issue, taking direct action to stop abortion and ultimately restore legal personhood to the pre-born in obedience to biblical mandates. Click here to support Operation Rescue.   Click here to make a secure donation online.
________________________________
Web site: www.operationrescue.org 
E-mail:
info.operationrescue@gmail.com