December 27, 2012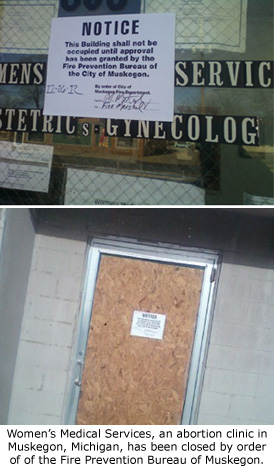 Muskegon, MI -- The Muskegon Fire Department has posted closure notices on the Women's Medical Services in Muskegon, Michigan, and boarded up the abortion clinic until further notice, thanks to the work of Operation Rescue.
"We are happy to announce that the closure of Women's Medical Services is the twenty-fourth abortion clinic to close in 2012," said Troy Newman, President of Operation Rescue and Pro-Life Nation.
"There is a lot more to tell about this closure, but we cannot disclose further details at this time. Suffice it to say that there were serious violations at Women's Medical Services that made it unsafe to continue operating. This is one less abortion clinic that can prey upon vulnerable women and their pre-born babies, and for that, we are thankful."
Operation Rescue received photographs showing the closure notice, dated December 26, 2012. One of the clinic's doors was boarded up with a plywood panel.
"Abortion clinics are closing at a rate of about two per month," said Newman. "In 1991, there were 2,176 abortion clinics in America. Today, there are just 660. Nearly 70% of all surgical abortion clinics have closed for good. We look forward to the day when all abortion sites have been shut down and the pre-born baby is once again protected by law."
________________________________
About Operation Rescue®  
Operation Rescue is one of the leading pro-life Christian activist organizations in the nation and has become a strong voice for the pro-life movement in America. Operation Rescue is now headquartered in a former abortion clinic that it bought and closed in 2006.  From there, Operation Rescue launches its innovative new strategies across the nation, exposing and closing abortion clinics through peaceful, legal means. Its activities are on the cutting edge of the abortion issue, taking direct action to stop abortion and ultimately restore legal personhood to the pre-born in obedience to biblical mandates. 
Click here to support Operation Rescue.
About Pro-Life Nation
Pro-Life Nation is an initiative of Operation Rescue that offers a goal-oriented strategy to end abortion.  For more visit 
ProLifeNation.org
 and read our new booklet that details our strategy. 
________________________________
Web site: 
www.operationrescue.org
E-mail: info.operationrescue@gmail.com