BREAKING! California Abortion Clinic Closure is Fifth in 2014




February 28, 2014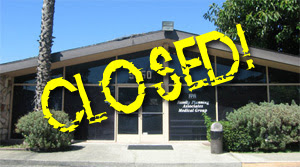 Montclair, CA - Liberalization of California's abortion laws last year could not save the Family Planning Associates abortion clinic in Montclair, California, which has closed due to a lost lease. The building is up for sale and there are currently no plans to reopen the clinic at another location.



All services are expected to halt by the end of February, but furnishings stacked behind the clinic near a large dumpster, which was loaded with medical and office equipment, more furniture, brochures, and even money bags from a local bank, indicate that the business is finished.




"When abortion clinics are tossing out the money bags, you known they have shut down for good," said Troy Newman, President of Operation Rescue, who has personally spent time protesting at the facility.



About Operation Rescue®

Operation Rescue is one of the leading pro-life Christian activist organizations in the nation and has become a strong voice for the pro-life movement in America. Operation Rescue is now headquartered in a former abortion clinic that it bought and closed in 2006. From there, Operation Rescue launches its innovative new strategies across the nation, exposing and closing abortion clinics through peaceful, legal means. Its activities are on the cutting edge of the abortion issue, taking direct action to stop abortion and ultimately restore legal personhood to the pre-born in obedience to biblical mandates. Click here to support Operation Rescue.
Click here to make a secure donation online
.
About Pro-Life Nation

Pro-Life Nation is an initiative of Operation Rescue that offers a goal-oriented strategy to end abortion. For more visit ProLifeNation.org and read our new booklet that details our strategy.
______________________________
__
Web site:
www.operationrescue.org
E-mail:
info.operationrescue@gmail.com