The next time you're at an airport, look for Steve Karlen! And if you see him, why not buy him a cup of coffee?

It seems like Steve, our North American outreach director, has been traveling a lot during this 40 Days for Life campaign. And he still has a bunch more stops to make before Day 40.

Here's Steve's account of his recent visits to campaigns in New Jersey and Pennsylvania.



Morristown, New Jersey




We had a great turnout in Morristown – despite the rain!

This is the first 40 Days for Life campaign there since 2007. I spoke to a number of the volunteers. Nora, who handles outreach to the Hispanic community, always knew she was called to do "something pro-life" – but she wasn't sure what that was until she found 40 Days for Life. She's calling the campaign her "first step."

I asked Dennis, another volunteer, about the greatest blessing of the campaign. He simply said, "The biggest change is in us."

The folks in Morristown are working very hard to fill their hours and recruit new participants. Stephen, the local director, is spending many hours on this campaign. It has been hard work, but they are persevering and making this campaign happen after stepping out in faith.

Woodbridge, New Jersey


The 40 Days for Life vigil in Woodbridge is taking place in the public right-of-way outside an abortion center owned by Stephen Brigham, a notorious abortionist who has lost his medical license in other states.

It was a cold day with a biting wind – the weather matched the surroundings. This abortion center was decrepit. Trash was strewn across the property and the building had broken blinds. I was told there had been an ambulance call here during the campaign.

There are other challenges as well. Nora, the local coordinator, told me about a pastor she asked to help promote the campaign. He declined, saying he could not support 40 Days for Life.

Still, despite all this, God's grace is shining through. So far, they're aware of two mothers who changed their minds and rejected abortion.



Allentown, Pennsylvania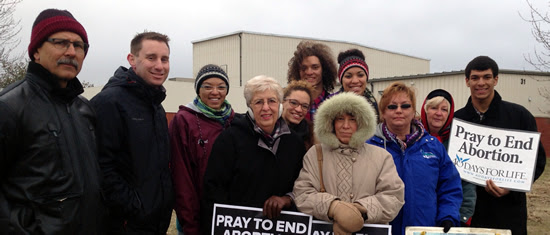 I had a great visit with the 40 Days for Life team in Allentown, too. This is their eleventh campaign!

But this is not the first location for their vigil. A couple of years ago, a clinic they had prayed in front of earlier in the history of 40 Days for Life shut its doors and went out of business. They're praying that this one will close, too!

Thanks to Steve Karlen for another 40 Days for Life travel report!
Today's devotional is from Rev. J. Kirk van der Swaagh of the Conservative Congregational Christian Conference.



Day 23 intention



For the medical community, that the truth they know about the human body may become awe and wonder at the God who made it.



Prayer



Your eyes saw my substance, being yet unformed. And in Your book they all were written, the days fashioned for me, when as yet there were none of them.

—Psalm 139:16



Reflection by Rev. J. Kirk van der Swaagh



Human beings — God's tapestries.

Psalm 139 is a psalm that reveals the enormity and otherness of God. His divine attributes are on display: omniscience (2-4), omnipresence (7-12), loving-kindness (17-18), justice (19-20), righteousness (23-24), and omnipotence.

Yet, when it came to express this last attribute, what example did the psalmist use — God's creation of mountains, seas, or far-flung galaxies? No, he used none of these.

To express the wonder of God's unparalleled creative power the writer mentions the fashioning of the human in the womb (14-16).

The Hebrew word used to express God's forming of us in the womb, raqam, is the same term for needlework or embroidery.

In other words, we are a tapestry that displays God's artistic mastery.

And, like the artist who knows his creation down to the last detail, God intimately knows us. This reality provokes the writer to awe and wonder. He proclaims, "I am fearfully and wonderfully made."

What is true for this psalmist is true for each human being.

Each is fashioned by God and known by him and we can proclaim on behalf of each, "I am fearfully and wonderfully made."



Prayer

Gracious God, help us to appreciate the wonder and beauty of Your creation.

Help us proclaim on behalf of every one of our fellow human beings, "I am fearfully and wonderfully made."

May the knowledge that we are intimately known by You shape our lives and actions. Amen.



Printable devotional



To download today's devotional as a formatted, printable PDF to share:

http://40daysforlife.com/docs/spring2014day23print.pdf
| | |
| --- | --- |
| | SHAWN CARNEY |
PS: If you have stories of how praying during this 40 Days for Life campaign has impacted your life, I'd love to hear your comments. Post them as a reply at the bottom of today's blog entry at:

http://40daysforlife.com/blog/?p=5644