Abortion facilities are dark places ... their rooms are filled, not with hope and relief, but with despair and loneliness.
For the first days of this campaign, we've talked about how the light has broken through the darkness at abortion centers – and, as a result, babies scheduled to be aborted have been saved.
But the darkness is real and can't be ignored ... especially at one of the most notorious late-term abortion facilities in America, which is where we begin today.
Germantown, Maryland
Last week, an ambulance was called to bring a woman from late-term abortionist LeRoy Carhart's facility to the hospital.
"This is the fourth patient that we know of sent to the hospital in the past 13 months," said Andrew in Germantown. "And as we know, tragically one of these patients passed away last year after the abortion of her 33-week-old child."

Andrew asked for prayers for this latest victim's "physical, emotional, and spiritual healing. Pray that this tragedy will be used to help bring an end to the abortions performed in Germantown."
Manchester, England
John saw a similar scene unfold in Manchester. "A paramedic car and an ambulance were called at the clinic, presumably to take a client to hospital for emergency treatment."
But there were also signs of hope. A woman who was two months pregnant took pro-life information from prayer volunteers on her way inside. "She came out after a while, saying she had decided to keep her baby," John said.
Phoenix, Arizona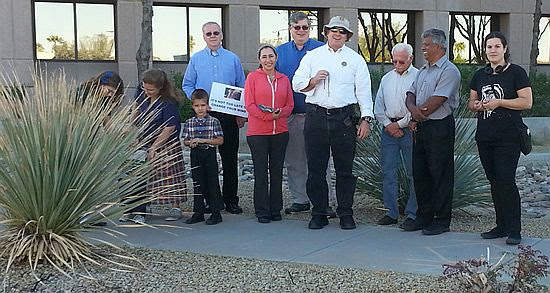 Praying outside an abortion clinic isn't easy. But it's necessary. "Today was a very hard day at our site," said Nancy in Phoenix. "I counted 14 women going in this morning, ranging from teenagers to a woman in her forties."
Parishioners from Mater Misericordiae Mission filled every hour of their 12-hour vigil, which did give Nancy encouragement. "Although we had no turnarounds to report," she said, "I pray that our presence at Family Planning Associates bears much fruit."
Savannah, Georgia
Finally, Paula in Savannah sent a picture of an evening vigil. Around 50 people turned out, including three members of the clergy, for prayer that ended with the singing of Amazing Grace.

"We lit candles," she said, "and declared that we would be the light of the Lord Jesus Christ in the darkness on 34th Street in Savannah!"
Today's devotional is from Carmen Pate of Alliance Ministries.



Day 7 intention



Pray that the abortionists and all workers in abortion facilities would be troubled in their souls regarding their work and would seek truth.



Scripture



Let all bitterness, and wrath, and anger, and clamor, and evil speaking, be put away from you, with all malice. And be kind one to another, tenderhearted, forgiving one another, even as God for Christ's sake has forgiven you.

— Ephesians 4:31-32



Reflection by Carmen Pate



We see the evil and oppression in the world, the arrogance of those who mock God, the millions of innocent lives destroyed because of the greed of a few.

Our flesh tells us that we should take justice in our own hands, but instead of vengeance, the Lord calls us to love our enemy, to forgive others as we have been forgiven.

God loves the abortionist and the Planned Parenthood advocate just as much as He loves you.

It breaks His heart to see them in bondage to sin and He is giving you this opportunity to introduce them to the Savior who sets the captive free.

Though you may not experience direct interaction with these souls, your presence will not go unnoticed. Your non-verbal communications speak volumes about the God you serve.

Forgiveness is an act of obedience to God (Colossians

3:13

). Forgiveness is not condoning or overlooking the wrong behavior of others, but rather it is freeing ourselves so that God can work mightily through us to touch their hearts for Him.

Let's join our hearts with His in recognizing that those in the abortion industry are not the enemy, but rather they are blinded by the enemy.

God desires that we bring them the message of truth and hope found in Christ, but the messengers He will use are those willing to forgive.



Prayer



Dearest God, You tell us in Proverbs that the foolish and the wicked lack wisdom and understanding. I pray you will trouble the souls of those in the abortion industry so that they hunger for truth and cry out for freedom.

I pray that my life would reflect my redemption so others may see it and trust in You. In obedience to You, and by your grace, I choose to forgive others as you have forgiven me. In the name of Christ my Redeemer I pray, Amen.



Printable devotional



To download today's devotional as a formatted, printable PDF to share with friends:

http://40daysforlife.com/docs/spring2014day07print.pdf
| | |
| --- | --- |
| | SHAWN CARNEY |
PS: Any miracles at your 40 Days for Life vigil? Please share them with everyone by posting a comment on today's blog entry:

http://40daysforlife.com/blog/?p=5390