God has taken 40 Days for Life to some unexpected places during the past six years – but none quite so unexpected as Russia.

The second 40 Days for Life campaign in Moscow is now going on …. and there are plans for more Russian campaigns in the future.

Robert Colquhoun, our international outreach director, just visited Moscow to encourage the volunteers there. Here's Robert's report from the capital of Russia.



Moscow, Russia



It was a great trip! I enjoyed meeting Arevik, the local leader in Moscow, and enjoyed their kind hospitality. I also met Anastasia, who wants to start a campaign in St. Petersburg. A number of other cities have also followed on board praying for life.

A press conference at the Interfax news agency was the highlight of the trip. It was a bit odd to have a receptive national media willing to spread your message – as opposed to the UK and the US.

At this event, Arevik spoke about the history of abortion in Russia and how that has shaped people's values and mentality.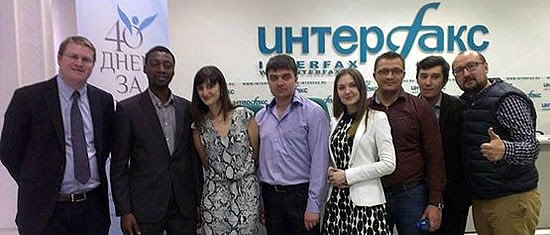 In 1920, Russia became the first country in the world to legalise abortion. For several generations of women, Arevik said, abortion was the primary means of birth control. Abortion became the norm, and a significant portion of the population believes that a person's life begins at birth, not conception.

I was able to meet with Father Dimitry, an Orthodox priest, and Bishop Matts-Ola Iskhoel, the senior pastor of Word of Life Church in Moscow, which is Arevik's church. This church is well organised, with about 4,000 members and seven churches in Moscow.

The Moscow vigil has been beset by challenges. For one thing, public prayer is something totally inconceivable in Russia.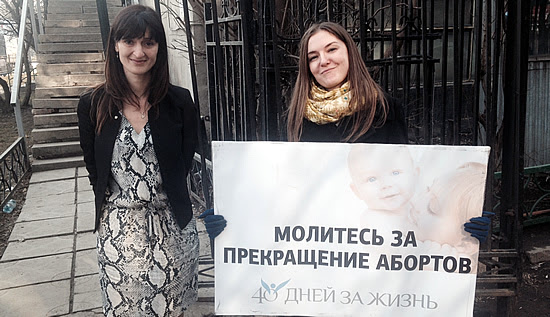 In addition to that, the police have not granted permission for the vigil this year, apart from having a small number of people for a very restricted period. The police stopped some of the prayer volunteers on the first day because of this. However, they are still praying around the corner and keeping the vigil going.

Last year, they conducted the vigil more anonymously; but this year, they wanted to have signs. Freedom of expression is not something that is deeply enshrined in Russia. But Arevik hopes this will change over time.

In short, the Russian volunteers are doing great in adverse situations – and hats off to them!


Thanks to Robert Colquhoun for this special look at 40 Days for Life in Russia.
Today's devotional is from Carmen Pate of Alliance Ministries.



Day 25 intention



Pray that God will bless us with His gift of strength as we respond in obedience to His call.



Scripture



Deliver those who are drawn toward death, and hold back those stumbling to the slaughter.

If you say, "surely we did not know this," does not He who weighs the hearts consider it? He who keeps your soul, does He not know it?

And will He not render to each man according to his deeds?

— Proverbs 24:11-12



Reflection by Carmen Pate



In this age of technologically advanced communication, ignorance of human rights abuses is no excuse.

We know there are persecuted Christians in China, there is genocide in Darfur, and there are babies aborted and women and families devastated right in our own communities.

"But I can't save them all," you say.

God isn't asking you to. He has equipped each of us with time, talent, and treasure to do what we can when He provides the opportunity.

He has given us His Holy Spirit to empower us as we abide in Him. He is asking us to be on His side in speaking out and protecting those who can't protect themselves.

When we are obedient to His calling to get in on the work He is doing, we will experience intimacy with Him in a whole new way.

Our faith will increase as we see God at work! You have responded to His call during this 40 Days for Life campaign.

Let your efforts be for His pleasure and His purposes. Pray without ceasing!



Prayer



God Almighty, we pray for continued guidance and strength as we intercede on behalf of the young women and their babies who are stumbling to the slaughter.

Open the eyes of the mother's heart to see her child as you do — a precious gift to be treasured.

Let her feel Your loving arms around her and may she be assured that you have a plan and a future for her and her child.

Give her reason not to enter the abortion clinic.

Give her wisdom and discernment to find life options through a local pregnancy care center and may she boldly choose life.

Thank you, Lord, for hearing our prayer. Because of Your Son's sacrifice we pray, Amen.



Printable devotional



To download today's devotional as a formatted, printable PDF to share:

http://40daysforlife.com/docs/spring2014day25print.pdf
| | |
| --- | --- |
| | SHAWN CARNEY |
PS: How has your community been blessed during 40 Days for Life? Please let me know! You may share your reply by responding to today's blog entry at:

http://40daysforlife.com/blog/?p=5671