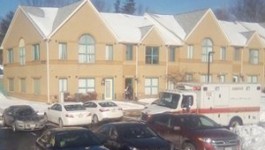 After little sleep and a heavy patient load, LeRoy Carhart sent another abortion patient to the hospital yesterday (March 4, 2014) for treatment of apparently life-threatening complications.
"For me, I'm the mother of three children. For me, life began when I delivered them. They've been probably the most important thing in my life ever since. But that was my own personal decision."
Health insurance companies in Washington state currently have the right to choose not to pay for abortion. But one post-abortive woman testified on Monday that as far as she's concerned, "That's not fair."
President Barack Obama and Planned Parenthood have been bosom buddies since his election — and the president has kept flow of taxpayer funds on ever since entering the White House in 2009. This year's budget proposal is no exception.
In 2003, a friend suggested I write a story about Bill and Sharon Edwards and their family. Based on what the friend, a physician, told me, I readily concurred, though the Edwardses couldn't understand why I might want to talk to them, explaining they didn't consider themselves anything special.